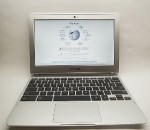 Jim Anderson
There's been a lot of interesting Linux news of late. Not just GNU/Linux, but all types of Linux, Android, Chrome OS, Firefox OS, embedded (IoT), cloud computing, cars, TVs, just about anything you can think of. But truth be told, I'd like to see more Linux on the desktop — just as Linus Torvalds said he would like to see.
The recent purchase of a Chromebook for my son got me thinking about […]
Continue reading How About a Chromebook on Steroids?