The title? Oh, This Is How It Works? Yeah, because this is how it works. Working together in collaboration. Leaving your ego and your bias at the door. Kicking off your shoes and joining a group already assembled. Opening your mind to new and possibly better things that you bring to the table. This is how it works.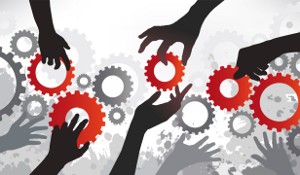 Changing someone's world.
Changing a lot of someone's world for that matter. Changing lives for a great and a new day…a great and new day for just them. A change that allows them to do things that physical inability restricted them from doing before now.
Not doing it for the few minutes your name and face will be on some website, or for a mention on the front page of a big city newspaper. Also, not doing it for money.
No, what you are doing is joining others with many of the same values, talents and dreams. People who are working not for their own but for someone else's future…someone you and they will probably never know or even meet. They are half a world away and not dreaming that in just a few hours someone else is going to fix something broken within them. And they're doing this fixing simply because they have the ability to do it.
Ken Starks is the founder of the Helios Project and Reglue, which for 20 years provided refurbished older computers running Linux to disadvantaged school kids, as well as providing digital help for senior citizens, in the Austin, Texas area. He was a columnist for FOSS Force from 2013-2016, and remains part of our family. Follow him on Twitter: @Reglue