The Magicstick Mobile Charger is a handy little device for keeping a smartphone charged and ready when away from a power source. However, some might find the $49.99 price a little steep.
When away from home, most of us can charge our mobile devices in our cars, or if we have a desk job, at the office either using a USB port on our computer or through an outlet. But what about folks who take mass transit to work? Or what if your job doesn't offer reliable access to an outlet or computer? Or what if you're an avid outdoors person who's in the habit of taking extended camping trips? What do you do then?
One solution might be the Magicstick Mobile Charger available from Powerocks.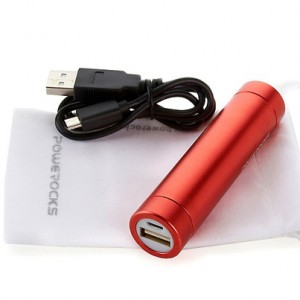 Basically, the Magicstick is a cylinder shaped rechargeable lithium ion battery that can be carried with you and used to charge your smartphone, camera or MP3 player. Measuring less than 3 2/3″ X 9/10″ diameter, it's a perfect size to carry in pocket or purse and it comes with a little drawstring pouch to protect it as it's toted around.
When the folks at Powerrocks sent us one to review we put it through its paces. Overall we found this to be a well designed piece of hardware. Checking the charge on the device is a snap and is done by way of a color coded LED display. Simply press on the LED button at one end of the stick and the color will tell you the status of the device. A blue light means its fully charged, a green light indicates its at 30% to 70% capacity and a red light means the device's charge is less than 30%.
Although the Magicstick is shipped pre-charged from the factory, by the time it gets into the consumer hands some of that charge will have dissipated. When ours arrived a quick check produced a green light, meaning we needed to charge it before seeing how it performed.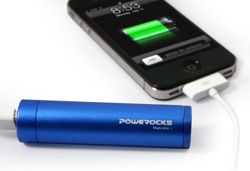 The Magicstick is charged by use of a USB port. We plugged it into our ancient Lenovo desktop using the short (about a foot long) USB to micro USB cable that's included in the box and the LED immediately glowed red, indicating the device was charging. It took about two and a half hours for the LED display to turn blue, indicating it was fully charged. According to specs published on Powerocks media page, charging the device when completely drained takes five hours, which might be another deal breaker for those of us who're constantly on the go. However, the device is designed so that it won't overcharge, so it can be safely plugged-in to charge overnight.
After charging the Magicstick, we hit a roadblock. There were two of us involved in the testing and both of us use older cell phones that aren't equipped with a micro USB port, leaving us dead in the water for that day's testing. Given the high price the device carries, I would've thought the designers would've included some kind of cheap but serviceable universal adapter so it could work with older phones as well.
Magicstick Pros and Cons

| Pros | Cons |
| --- | --- |
| Well made, rugged design should afford users years of use. | Five hour charging time might limit its usefulness for some users. |
| Color coded LED system makes it easy to check the status of the charge. | Out-of-the-box will only charge devices equipped with a micro USB port. |
We eventually tested the device using a Motorola smartphone that was about half charged when we plugged it up. The Magicstick device worked exactly as advertised and in less than a half hour the phone was fully charged. A quick check of Magicstick's status afterwards revealed a green light, meaning that charging the phone had used somewhere between 30% to 70% of the devices stored power. Note: although the device's packaging claims the device is good for two full charges, the company's website indicates that when fully charged it'll charge most phones about 1.5 times.
The Magicstick is a very rugged, well made device. However, it comes with a steep price and some users might have to purchase an additional cable if it's to be used on phones that don't have a micro USB port.