Who would've thought it possible that digital rights management (DRM) would come to the coffee business? Well, it has. Believe it or not, Keurig now includes DRM on their coffee makers. Why? To keep users from using anything but Keurig coffee pods on their machines, of course. You know, just like the DRM used by some printer manufacturers to keep you coming back (and coming back) for their branded replacement ink cartridges instead of opting for the much cheaper store brand.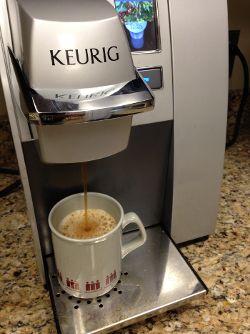 Forget that the newfangled coffee pods, which are now all the rage with the yuppie crowd, were already a bad idea. Forget that the damage they do to the environment is about on par with plastic throwaway water bottles or that they make a home brewed cup of joe as expensive as Starbucks — only without the barista to get your name wrong. Now Keurig wants to make damn sure you're not using anything but approved pods on machines it makes, so it's brought in DRM enforcement. Try to make coffee using anything but Keurig branded pods and the machine will spell-out the word "oops" on its display and refuse to brew.
What's worse, even some Kerug branded pods are not DRM ready, and good luck getting a refund if that turns out to be the case.
Christine Hall has been a journalist since 1971. In 2001, she began writing a weekly consumer computer column and started covering Linux and FOSS in 2002 after making the switch to GNU/Linux. Follow her on Twitter: @BrideOfLinux