FOSS Week in Review
First things first: If you noticed the abscence of the clockwork-like timing of each of FOSS Force's articles this week, it's because our editor-in-chief Christine Hall lost a battle with gravity involving a staircase and spent some time recovering from a good banging-up. When you get a chance, wish her a speedy recovery.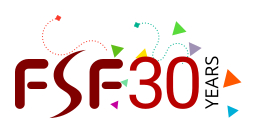 Speaking of things as certain as gravity…
FSF Turns 30: Mark your calendars for Oct. 3. The Free Software Foundation — you know, the guys and gals who continue to tirelessly advocate for "free-as-in-freedom-and-beer" technology — is gearing up for its 30th birthday party. The party will feature an address by FSF founder and president Richard Stallman. You can learn more about the event on the celebration page and the RSVP form is open. If you so desire to use a hashtag on social media (though the FSF has this caveat about social media), knock yourself out with #FSF30.