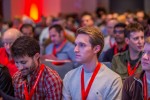 This year, we at FOSS Force are expanding our coverage of Linux, FOSS and OSS conferences. This got us wondering, in a self serving sort of way, how many of you regularly attend conferences?
At this point, it's looking as if we'll have boots on the ground at three conferences, all scheduled for late October. In fact, we're already hard at work coordinating our efforts to cover these events.
All Things Open
First up will [...]
Continue reading Are You Going Conferencing?