HP's Board of Directors could've solved a lot of their problems with the single action of replacing failed CEO Léo Apotheker with a competent executive capable of managing a diversified (some would say bloated) giant like HP. The CEO job would not be a position to fill with haste, which the board seems to have done.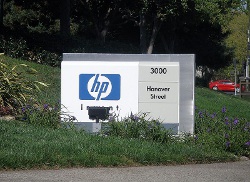 Sure, Meg Whitman is something of a minor CEO rock star insofar as her name has a brand recognition. That brand is connected to her performance leading eBay to über success and to a failed bid to become California's governor. As has been pointed-out countless times since Thursday, when when she was hired as HP's latest CEO, however, eBay is not a technology company but is an auction house that happens to reside in cyberspace. As for her venture into West Coast politics – does blowing $144 million of her own money (and an additional $34 million of other people's money) in a failed election bid instill confidence in her ability to make sound decisions?

Evidently not. The day after HP announced they'd put her in charge, the Associated Press announced that HP's stock fell to a six year low.
"'While we believe the decision to replace Leo Apotheker was a good one, we are disappointed with the naming of Meg Whitman as HP's permanent CEO, and believe that this sentiment is shared by most investors and large HP shareholders,' Sanford Bernstein analyst Toni Sacconaghi said Friday. 'We believe the company was remiss in not conducting a comprehensive CEO search.'"
Whitman's hiring looks like a desperation move. This is unfortunate, because the message HP needed to send with Apotheker's firing was that the situation at the company is under control, that sanity is at the helm. Instead, they end up looking as if they're merely grasping at straws.
The seeming inability of HP's board to act in ways that make sound business sense don't surprise those who've been watching HP for the last several years. One small example of the board's failure to follow common sense procedures is found the revelation in Wednesday's New York Times that Apotheker was hired without even being interviewed:
"…when the search committee of four directors narrowed the candidates to three finalists, no one else on the board was willing to interview them. And when the committee finally chose Mr. Apotheker and again suggested that other directors meet him, no one did. Remarkably, when the 12-member board voted to name Mr. Apotheker as the successor to the recently ousted chief executive, Mark Hurd, most board members had never met Mr. Apotheker."
In the same article Tom Perkins, former HP director and co-founder of the venture capital firm Kleiner Perkins Caufield & Byers, is quoted as saying, "It has got to be the worst board in the history of business."
Although I'm convinced that Apotheker had to be fired immediately, there was no need for the folks at HP to be in a hurry to find a permanent replacement. Someone competent could've been brought up from the ranks to serve as a caretaker interim chief until the right person could be found to head the company on a more permanent basis. A don't-rock-the-boat caretaker leader actually might have been good for the short term, and this would've given the company a chance to do a good old fashioned search and maybe lure someone with solid credentials away from, say, IBM.
It's too late now. When Meg Whitman is proved to be incapable, which I think is a given, there will not be the opportunity to calm Wall Street's fears by the mere appointment of yet another new CEO, no matter how competent he or she turns out to be. It will be too late for that, and HP will probably find itself being sold off in pieces.
I think the board has backed themselves into a corner, and there is only one way for the company to survive intact. What's called for now is a good old fashioned shareholder revolt which results in the entire board being given their walking papers. Nothing good can come out of the HP boardroom with it's current members.