In the last couple of weeks I've received two advertising flyers from the folks at Dell. As usual, both were pretty flashy print jobs featuring high quality color photography on slick paper. One of the brochures was aimed at business customers, the other at consumers.
I usually don't look very carefully at flyers from Dell when they come in the mail, which is fairly often. Sometimes I'll open them up, just to see their low-ball price on desktops and laptops, since I'm a bottom feeder. Mostly, though, I just throw them away. I haven't bought a new computer since 2000, and if I were to ever buy another new machine it'd be a white box that I'd have my friend Michelle at Dragonware Computers build for me. Either that, or I'll build one myself, which is something I've always wanted to do.
When the first of these flyers arrived, which was the one intended for business customers, I noticed right away that in the upper right corner were the words, "Dell recommends Windows."
Windows? Not Windows 8? Not Windows 7? Just Windows?
I'll admit, the last time I got up close and personal with a Dell advertising flyer was years ago. Again, they usually go straight to the rotary file. But I distinctly remember noticing, quite a few years back on a day when I had nothing better to do than study junk mail, that "Dell recommends Windows XP" was plastered all over the thing. Right now I'll willing to bet that a year ago it was "Dell recommends Windows 7."
This piqued my interest. I tore through the little paper adhesive that held the flyer shut so it could make it safely through the post and took a quick look at what was included with each system. Sure enough, each of the different desktops and laptops came with various versions of Windows 7 installed. Only their tablet offerings came with Windows 8. Below each listing in the recommended upgrades–no suggestive selling of Windows 8 either.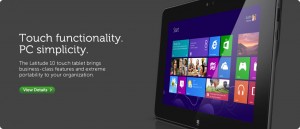 Early this week when I received the second Dell flyer, the consumer version, it was the same. Everything comes with Windows 7. Windows 8 is only mentioned in the specs for their Latitude 10 Essentials tablet.
This can't last long–for Microsoft or the OEMs. Redmond is risking loosing their hold on the desktop market as they chase a dream of grabbing a share of a mobile market that doesn't belong to them and probably never will. They're not nimble enough for mobile.
The OEMs can't push Windows 7 forever. Eventually they'll have to find something new. Ubuntu anyone?
Christine Hall has been a journalist since 1971. In 2001, she began writing a weekly consumer computer column and started covering Linux and FOSS in 2002 after making the switch to GNU/Linux. Follow her on Twitter: @BrideOfLinux