Since I've been following Linux and FOSS (thirteen years or so by my estimation), questions regarding choice, or too much of it, have been bandied about in Linux circles. Some penguinistas point proudly to the long list of GNU/Linux distros, proclaiming choice to be wonderful and a positive aspect of life in the land of Linux. Others bemoan the sheer number of distros, saying having so many of them has made Linux confusing for newcomers and is otherwise inefficient.
I've always considered this to be a rather nonsensical discussion. To begin with, it is what it is. There are a gazillian distros out there, whether we like it or not, and complaining there are too many accomplishes absolutely nothing but to make the complainers out to be whiners–but that's just my humble opinion.
The main reason I don't usually pay any attention to these discussions on choice, however, is that I'm already firmly rooted in the camp that supports choice. Of course there are a gazillian distros. That's the Linux gene pool. It's a strength that helps keep Linux healthy and what keeps the operating system from being a one-size-fits-all solution that actually fits no one (like, say, Windows).
Most distros aren't designed for the "average" user (if there is such a person), but for users with special wants or needs. Some are merely the product of tinkerers who like to get their hands dirty working under the hood. They're all just part of the open source salad that is Linux.
It seems to me that in the past those who proclaimed there were too many distros were mainly Microsofties and Windows users who were attempting to turn choice from an asset into a liability–in other words, by people sowing FUD. Recently, however, I've been seeing more actual Linux users claiming that the number of distros has kept desktop Linux from evolving and gaining traction.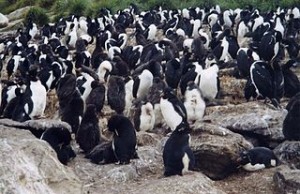 Their argument seems to be that if all of the coders who are working on small specialized distros would throw their efforts behind one of the major distributions, advancements in Linux technology would come much more rapidly. Some have even expressed the opinion that this supposed thinning of talent kept Linux from becoming a dominant force on the desktop when Vista proved to be such a disaster for Microsoft.
This opinion has been expressed by Linux Advocates' Dietrich Schmitz, who often opines that most distros are unnecessary. Last Thursday, when reporting on Cloverleaf's announcement that the project was ceasing development as a stand-alone operating system, Mr. Schmitz again expressed his opinion on the large number of Linux distros:
"I happen to believe only a few Distributions [sic] will remain in five years and they will consist of Debian and derivatives, Ubuntu and derivatives, Mint, Fedora, openSUSE, Mageia, Arch Linux and Gentoo.

"All others are cookie cutter Distros [sic] of sorts and have no real redeeming value beyond being mixes of the aforementioned base Distributions [sic]. There's no innovation in that."
While Mr. Schmitz is undoubtedly right in his assumption that many of today's distros will be but a memory in five years time, that really doesn't speak against their existence. Indeed, even if a distro is merely the result of a tinkerer seeing what he or she can do, making those efforts public may introduce some ideas or concepts that will later be rolled into other distributions. Also, that tinkerer may very well one day be employed as a coder for the likes of Red Hat or SUSE, or join the development team at Debian, bringing skills learned while hobbling together a small distro.
It's also true that the sheer number of distros is probably very confusing to those coming to Linux from a monoculture operating system such as Windows or OS X. It would probably be a good thing if "official" Linux sites, such as Linux.com, kept a list of four or five general purpose distros on their front pages for potential new users who just want to give GNU/Linux a try.
As for me, I love a long list of distros. It doesn't bother me that there's a score of different remixes of each of the "major" distributions. Sometimes these derivatives become independent distros on their own–just as Mandrake/Mandriva began as a derivative of Red Hat, only to spawn PCLOS and Mageia, which started life as forks but are now standing on their own. Ubuntu was derived from Debian and Mint was derived from Ubuntu. None of these would be considered "cookie cutter distros."
Christine Hall has been a journalist since 1971. In 2001, she began writing a weekly consumer computer column and started covering Linux and FOSS in 2002 after making the switch to GNU/Linux. Follow her on Twitter: @BrideOfLinux