Tom Warren reported on The Verge yesterday that he's been hearing some skinny that Microsoft is considering making some changes to Windows Phone to allow it to run Android apps. The same plan didn't worked very well for Blackberry, but that was a company already on the ropes and the marketplace had pretty much already turned its back on the once coveted "Crackberry."
Microsoft also has a phone nobody wants, but it still has high hopes.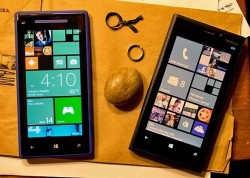 Microsoft understands the importance of apps. Apps are how it gained its grip on desktop computing. The company made it easy for software developers to write for MS DOS, thereby making it easy for users of "IBM compatible" computers to find needed programs, thereby creating a demand for desktop computers loaded with Microsoft's finest. This strategy quickly brought DOS and then Windows to dominance on the PC, which Redmond proceeded to parlay into a monopoly.
In The Verge article, Warren points out that Android is in much the same position now on mobile as Microsoft was in early 1990s on the desktop.
"Android is the mobile equivalent of Windows on desktop PCs — it's everywhere. That growth shows no signs of stopping, and it represents a huge blockade for Microsoft's mobile efforts across multiple market segments."
There's just one problem with the notion of opening up Windows Phone to run Android apps: Android apps are designed to run on Android. Anyone who's ever run Word on Linux atop Wine know that the program isn't nearly as responsive as it is running natively on Windows. The same would be true running Android apps on a Windows device. Microsoft might be able to get apps from Google Play to perform "good enough" on Windows, but there would be a noticeable performance difference in a side-by-side comparison with Android.
This is a most interesting dilemma for Microsoft, as it now finds itself in the same position as IBM did twenty years ago when it was trying to sell OS/2 in a world already sold on Windows.
If Microsoft were to make this move, modifying its OS so it can run Android apps and offering them on the Windows Store, it would only be hoping to level the playing field a bit by being able to offer consumers the same apps as Android. Such a plan would be doomed from the onset, however. Just as Redmond went to great lengths to protect its market position when it was a de facto monopoly, Google isn't going to stand by and let Microsoft eat into its market share by using Android apps as a springboard. Nor is Samsung.
I suspect that if this were to happen we'd see Google, Samsung and other Android players go to war on several fronts. Certainly there would be some patent battles to be played out in the courts and we could definitely expect to be bombarded with advertising campaigns reminiscent of the Mac vs PC campaigns conducted by Apple not so many years back.
If Microsoft really wants to steal market share on the back of someone else's work, Android is not the platform to exploit. Nor is iOS. It should look to Firefox OS, where apps are built using HTML 5, a standard that's free for all to use. Because of the relative simplicity of porting apps to Mozilla's OS, I suspect there will be plenty of apps for the platform much quicker than anyone currently expects.
It would be easy for Microsoft to make Firefox apps run natively on its own phones. All that would be needed is a browser that speaks HTML 5 fluently. Even Microsoft should be able to handle that.
Christine Hall has been a journalist since 1971. In 2001, she began writing a weekly consumer computer column and started covering Linux and FOSS in 2002 after making the switch to GNU/Linux. Follow her on Twitter: @BrideOfLinux