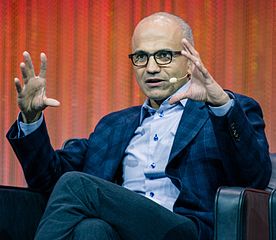 So we don't have Steve Ballmer to kick around anymore. The buffoon is gone. He's out the door, replaced by Satya Nadella, a 46 or 47 year old geek from India who spent 22 years rising through the ranks at Microsoft to capture Redmond's top prize as CEO. His starting salary in his new position will be $1.2 million. Nice work if you can get it, eh?
The fact that we don't know Mr. Nadella's exact age is telling, revealing a man who has spent his career keeping a low profile and evidently keeping his private life private. We do know that he was born in 1967, the year of the "Summer of Love" to us aging hippies, the same year the Beatles released the Sgt.Pepper's album. After earning a bachelor's degree in India, he came to the U.S. where he earned an MS in Computer Science from the University of Wisconsin–Milwaukee and an MBA from the University of Chicago Booth School of Business. He spent a brief period working for Sun before joining the staff at Microsoft in 1992.
At present, nobody seems to have any idea what direction Nadella intends to steer Microsoft as he takes hold of the reins. He comes to the job after serving as the company's executive VP of cloud and enterprise, so we can assume that his focus will be on building Microsoft's cloud services. Other than that, we know very little of his plans, other than what he wrote in an email to his employees on his first day in the captain's seat and his words in a promotional video issued by Microsoft after he was named to the post.
This would certainly seem to be the end of an era at Microsoft. Bill Gates is out as chairman of the board, but will evidently be more active in a new role as "Founder and Technology Advisor." Microsoft has said that he "will devote more time to the company, supporting Nadella in shaping technology and product direction." Other than that, not much is known.
What we can expect to see immediately is probably a very public focus on areas where Microsoft is lagging. Cloud services and mobile will be first on the agenda, I imagine. It'll be especially interesting to watch what happens with Nokia after it comes fully under Redmond's control.
More interesting will be whether the company will continue along its monopolistic path. Will Microsoft continue to go-it-alone, or will this new CEO bring us a more open Microsoft than we've seen? We can only hope that he will be somewhat more enlightened than Gates and Ballmer and fully embrace open source. If that happens, however, I'm afraid it won't happen quickly.
However, I don't think it'll take long for us to determine whether Nadella is a good guy or whether he represents just more of the same at Microsoft.
Stay tuned…
Christine Hall has been a journalist since 1971. In 2001, she began writing a weekly consumer computer column and started covering Linux and FOSS in 2002 after making the switch to GNU/Linux. Follow her on Twitter: @BrideOfLinux