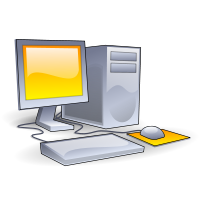 It's hard to remember that it wasn't that long ago that we only had a couple of choices to meet our computing needs. As recently as 2007, the year before Obama was elected, someone looking for a new computer basically could choose between a desktop or a laptop. In mobile, Research In Motion offered the Blackberry, which candidate Obama was famous for using — and still uses.
2007 was the year things began to change. In June of that year, Apple introduced the iPhone and in October Asus released the Eee PC, the first netbook of the modern era. When in October of the following year HTC released the Dream, the first handset running Android, it became obvious that consumer computing space had been forever changed. Less than two years later Apple released the iPad which was quickly followed by tablets running Android.
The introduction of the modern generation of tablets, which were highly capable and easy to use, had an immediate effect on sales of traditional desktops and laptops, leading some tech writers to proclaim that the age of the desktop was over and that desktop computers were on their way out. This wasn't true, of course. We were just experiencing what the Wall Street types call a "market correction."
For years it had been noted that many, if not most, home computer users didn't really need a state of the art desktop, as most users basically used their computers for email, web surfing, listening to music and some word processing. Later, as streaming videos became popular after Google acquired YouTube, watching videos was added to the mix. Also, many home users didn't really like full fledged computers, finding them to be too complicated. Tablets, with their ease of use and super portability, filled that gap nicely.
Early this month we wondered what devices the readers of FOSS Force were using. Since we cater to a tech savvy crowd, we already knew that you hadn't abandoned the traditional PC en masse. But we also figured, tech lovers that you are, that you'd incorporated many of the devices into your lives.
On March 5 we published our How Do You Compute poll which asked the question, "What computing devices do you own?" Those taking the poll were allowed to choose all that applied from a field that included server, desktop, laptop or notebook, netbook, tablet, smartphone or "other." The "other" options included a text box in which an explanation could be typed. In total, 275 of you took this poll.
It was no surprise to discover that the traditional desktop and laptop were the winners here. The desktop led the pack with 226 votes. Laptops and notebooks were close behind with 219 votes. I think we can safely assume from this that close to 100% of those who took this poll own at least a desktop or a laptop, with a majority of you owning both. In third place, with 164 votes, was the smartphone followed by tablets with 122 votes.
We included servers into the mix because we knew that some of you would probably have an old box setup somewhere that you're using as a file and print server. Also, many of you might be serving webpages from your home using a broadband connection. It was something of a surprise, however, to find that well over a third of those taking the poll, 109 to be exact, said they have a server.
Lagging far behind was the netbook, with only 79 of you ticking that answer. The "other" option picked-up 26 votes and included such things as embedded devices, eReaders and gaming consoles. Nine of you indicated that you own a Raspberry Pi.
A total of 945 answers were given, meaning you own, on average, 3.44 different types of computers.
Christine Hall has been a journalist since 1971. In 2001, she began writing a weekly consumer computer column and started covering Linux and FOSS in 2002 after making the switch to GNU/Linux. Follow her on Twitter: @BrideOfLinux