Editor's note: Be sure to check our home page tomorrow morning for a special bonus column by Ken Starks.
Is it Tuesday already?
I don't think most of you know just how much I enjoy talking to you every Tuesday. See…I don't think of this as an article. This is my way of starting a conversation with my friends. There are times when I write a particular sentence, knowing that someone reading it is the only person other than me who knows what I am talking about. There's a certain inner-warmth in being able to write like that. Whether it be to just one person or to everyone.

It's nice to envision the faces of those I am talking to as I write. I think that drives my personal style of writing. I've been told that it could be worse.
Speaking of worse…
Two weeks ago I signed off with a promise to get back to you on a series of articles I am writing, outlining the process of getting an easy-to-use FOSS application written in the realm of text to speech. And yeah, I most certainly am going to pick that subject up again now…just not the way I'd planned.
To me, software code is Voodoo. With me, the disconnect is complete. How those ones and zeros, mixed in with an abundance of squiggly characters, get dumped into the magician's hat and spill out into something that makes my life easier when I sit down at a computer is beyond me.
Truthfully, I'd be fairly easy to dupe… $24.00 worth of beads and all that.
Over the years, I've noted that the people who make that magic happen almost always tend to be of a certain personality type. Now I will tell you this one more time: A four year degree in psychology presents you with just enough education to prove that you that you don't have enough education to gain the level of employment which will provide enough income for to pay your student loans, or discuss personality types with anything that approaches authority. That being the case, I'll not pretend to know what I am talking about when it comes to identifying specific personality types.
It started out fairly good.
On a posting on my Google+ account I was talking with a fellow about some of the challenges specifically found in creating a text to speech app. "Aha!" I said to myself. "This is the guy I need to speak with." And so it did go. I probably learned more about writing TTS applications, and the perils, during those few hours than I had known before.
Then he read my article here on FOSS Force addressing the horrible state of TTS applications in the Linuxsphere.
From his email response, you would have guessed I had back-handedly slapped Shirley Temple — lollipop and all.
Folks, I'm not talking about a stern communication. I'm talkin' finger-poking-into-my-chest-slathering-frothing-yelling-losing-all-composure pissed off. He more than adequately suggested: How Dare Me! If I don't write or understand software programming or the brilliance required to do so, then I don't get a pass on judging what needs to be done, how it should be done, when it should be done, and finally, to what quality I might accept as usable.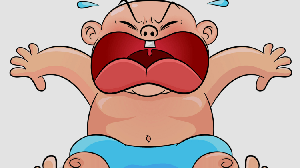 It would seem that I may have ever-so-slightly brushed against a nerve.
After a couple of days, he returned via my Gmail inbox to further expound on his last input. Apparently, anyone who believes that a particular software isn't up to snuff should gain education enough to fork the program. No, really…he truly believes in his heart of hearts that statement to be true. I think it would be safe to scratch his name off any future collaboration lists. Of any type. All of them.
If I wanted to bait him, I would kindly refer him to any given bug report list and ask him if these people did not share his belief in forking. Why submit a problem ticket? Just fork the application and make it your own. I kind of feel bad for the guy…getting so tightly spun about over something this trivial. I mean, in the scope of all things, it is trivial. It's obvious he took something in my last article personally.
Here's why I'm even bothering to write this: I'm writing to the person who is considering Linux as a desktop system. I am writing to the kid who wants to explore computer programming. I'm writing to the person who is intrigued with the look and feel of Linux on the desktop.
Should you run into this kind of person while you are asking for help or even offering to help others, just write him off as someone who had an extremely bad day and move along. He is most certainly an anomaly within the global Free Software community…within the Linux community.
And to the person I'm talking about: Should you ever respond to anyone in a public forum or community in the same manner as you did with me, you should be thrown out on your ear with the door slammed behind you with authority. You represent everything that is wrong in a free software environment. So let your IDE be your sword, not your inferiority complex.
I do want to end on a positive note.
Next Tuesday, we will feature an interview with Mr. Neil Munro, a software engineer in the UK. He's working with a loose group of us who intend to make text to speech a working and easily acquired tool to meet our day to day needs. He's already began work on a Chrome browser extension that I am using daily. I've already covered the many problems, some seemingly insurmountable, to be found in the text to speech tools within the Linuxsphere. And, ahem, in some of the developer communities it would seem.
Those who create and maintain software within the Linuxsphere have a great responsibility to their users. And you don't have to give your work away. I am happy to pay for good software that meets my needs. But we count on your application to work as intended. And to the majority of the people who write software to help me in my day to day job…
Thank you.
The time has come for FOSS Force to grow and offer expanded coverage of free and open source software and free tech. For this reason, we have declared the month of May to be "Pledge Month" on FOSS Force and have launched a fundraising campaign on Indiegogo. You can get all of the details on our campaign page.
Ken Starks is the founder of the Helios Project and Reglue, which for 20 years provided refurbished older computers running Linux to disadvantaged school kids, as well as providing digital help for senior citizens, in the Austin, Texas area. He was a columnist for FOSS Force from 2013-2016, and remains part of our family. Follow him on Twitter: @Reglue