I grew up on a farm and ranch up until I was fourteen. It's a tough life, best suited for tough people who can beat their environment into submission and produce the results needed to thrive. Should I ever have displayed the poor judgement to complain about something within earshot of my dad, I would get the same advice every time.
"If you're bitching about something, then you ain't doin' nothin' to fix it."
Wise words from a man with hands as rough as raw leather and a broad back made for ten hour days of hard work. That work began for him on the Montana prairie at the age of eleven, the age when he could saddle his own horse and accurately fire his Marlin 35 varmint rifle. It's been 38 years that he's been gone, but every time I find myself pissed off and griping about this or that, I can hear him as clearly in my head as I could then from inside the tack shed.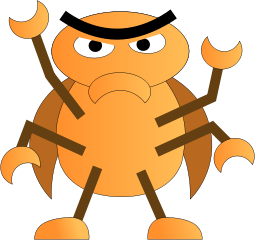 Most times anyway.
This isn't one of those times, but maybe together we can figure something out. I'll pose the question to you, in hope that we might be able to provide a workable answer.
"What good is free and open source software when no one bothers to fix the stuff that's broken?"
Sure, we tout our ability to fix security issues when there are thousands of eyes inspecting our code. We're not shy about telling folks that Linux is much safer due to mass exposure to people who know what they are looking at. We stand proud at the summit of that fact and wave our flag for the world to see. But how about we do a bit of housekeeping while we're in there looking around?
The emails and text messages started coming last Thursday afternoon. Some of our ReGlue kids were getting dire messages popping up on their computers, and the majority of the calls were from kids using Lubuntu.
"Sorry, Ubuntu 14.04 has experienced an internal error."
Did you get that? Ubuntu has experienced an internal error. Not "Chrome has experienced" or "Thunderbird has experienced"…Ubuntu has experienced an error. Well holy frickin' bovine-like carbon-based unit. If I were a novice Ubuntu user and my computer informed me that my entire operating system was experiencing an internal error, I'd be running around in circles with my hands flailing in the air like my remaining hair was on fire. That's not too far away from the mental state of some of those contacting me. Important homework files are on their computers, as are family photos and documents. It was pure unmitigated panic.
I was stymied about the Lubuntu thing. Yeah, we do install Lubuntu on some of our older, resource-challenged machines. It's worked nicely…up until now. But these rapid-fire complaints came in so fast I assumed a system update had hosed something. Turns out it's a fairly well-known bug.
This from Askubuntu.com:
Q. I am using Lenovo B460E. I installed Ubuntu 14.04, and when I log in it is showing an error message 'Sorry, Ubuntu 14.04 has experienced an internal error'. I reported many times but the Window is constantly appearing. Also, when I try to shutdown it gets stuck on the Ubuntu logo.

A. I had the same issue when Ubuntu 14 just came out but after updating these problems disappeared.

You have to look in the details of the popup to see which program is causing the error. This is very important to know what is going on. The popups may come from different packages. Based on that info, you may also find more information in your /var/log folder or find more information on the issue at https://bugs.launchpad.net/ubuntu.

Once you report the issue, the necessary data is sent for review and will be fixed in a later update.
Did you get that last part? The part where it says, "the necessary data is sent for review and will be fixed in a later update."
I'm wondering just how long it's supposed to take "necessary data" to be reviewed. I mean, since Ubuntu is open source and all…seems to me this problem should have been fixed by now. And no, this isn't the first instance of this error. I've found the same problem reported back in June, 2012.
Really folks…really? 2012? And many of us wonder why Linux is considered a hobby operating system. While this problem is not near as dire as the popup might lead us to believe, new users don't know that. It is frightening to them. And don't even think about uttering what seems to be the standard response: "Well Ken, Microsoft also has a poor track record of fixing bugs too."
Yeah? Your point? How does pointing out someone else's failure mitigate that same failure elsewhere? It doesn't. It doesn't mitigate anything. All it does is indicate that someone else is exhibiting the same behavior. At least Microsoft has a somewhat valid reason as they only have a relative few who can access the code. But for us, there really isn't any excuse.
However, there is a valid reason, and I'll explain the difference between an excuse and a reason later. It's TOG syndrome, as in the Other Guy will fix it. We've got thousands of The Other Guys assuming that The Other Other Guy will take care of it. That's where this inertia comes to gravitational center. But do you know what can break that inertia? Money.
Here's the deal. Since this bug hasn't been properly addressed, or seemingly so, I'll pay a bounty of $200 for this bug to be permanently fixed. I am sure Reglue will okay the matching of my donation to fix this, but I cannot guarantee it. And for those who haven't already looked this up, it's a problem with Apport. I'll even do part of your work and guide you to the place where the whole problem can be seen and studied.
So, who's up for it? Proof of acceptance of the code has to be proven via the many Ubuntu websites such as Askubuntu. And it's sad that this sort of problem has to be gunned down from the outside. How many people code for Canonical? That's rhetorical, it's not important to the discussion.
Do you want to know what is? Don't be The Other Guy.
Oh, as promised:
Reason: – noun As a statement presented in justification or explanation of a belief or action, the basis or cause for a belief or action. Most often a reason can be proved as true or accurate.
Excuse: – noun As a pretext or subterfuge, an explanation offered to justify or obtain forgiveness. Often seen as a lie with no one wanting to expend the energy to expose.
Ken Starks is the founder of the Helios Project and Reglue, which for 20 years provided refurbished older computers running Linux to disadvantaged school kids, as well as providing digital help for senior citizens, in the Austin, Texas area. He was a columnist for FOSS Force from 2013-2016, and remains part of our family. Follow him on Twitter: @Reglue