The Heart of Linux
Ken Starks throws down the gauntlet and puts a hundred bucks on the line in an attempt to see if civility can be brought to the forums and a particular change made to LibreOffice.
It was last Wednesday that I dropped into one of the forums where I lurk on occasion and even on fewer occasions might post. One of our newer Reglue kids had emailed me with a question about something I've been teaching our kids for a while now, but even though I had explained this to her just a month ago, I had to 'splain it to her again.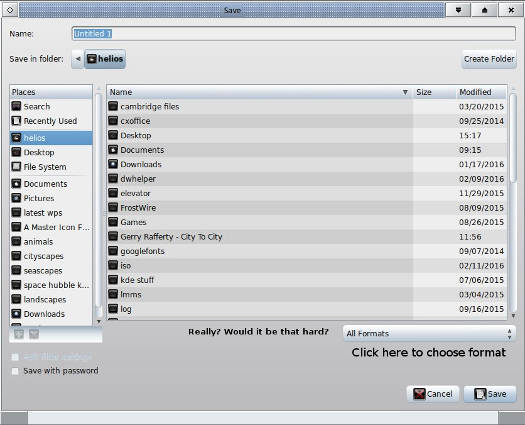 I had to remind her how to change the format in Writer before she sent her document off to a Windows user.
Go ahead and roll your eyes, you who are all-knowing. It's an easy thing for us, but I want those of you who care to see things through the eyes of a new Linux user.
In the dropdown menu in the save dialog, new users are glossing over the button that says "format." A lot of new users are just not seeing it. They have no cue telling them that the word "format" is a mouse trigger for a drop down menu. Would it be so hard to place "click here to choose your document format"?
I have no idea who would actually be able to make that change. I've mentioned this on a few occasions in various forums over the years. I even talked about it when I keynoted at Texas Linux Fest in 2011, but apparently I either placed it in the wrong forum, didn't talk to the right people, or the people I did talk to mentally told me to go PUAR. All three have equal chances of being right.
I've all but given up on starting forum discussions outside of Google+ and the occasional Faceplant post. The fact of the matter is, I do not encourage Reglue kids to post in many of the forums. Some of you may remember that in 2007 I almost went to jail for calling someone out on a forum and maybe crossing the the line between civil discourse and threatening to drag him out to the street and whip his…uh, backside. The jerk had brought a 14-year-old girl to tears, calling her an inbred moron and suggesting she ought to wander up to her daddy's still and have a slash with her brother.
Having thought about that incident often, it's made me wonder if this sort of behavior isn't the reason we've fairly well devolved into tribes within the Linuxsphere. To be honest, I don't really know the conditions and the temperament in many of the forums to which I used to belong. Given some of the comments I see elsewhere, I am guessing it hasn't gotten much better. So with that in mind, I am careful about sending younger kids into forums.
Some of you have suggested that maybe Reglue could set up a forum just for Reglue kids. On the face of it, that would be an excellent idea, if we could find someone to reliably administer it and people to contribute time on a daily basis to help answer questions. When we tried launching a forum in 2012, lots of folks offered to help, but after 70-some questions were posted with absolutely no one else but myself manning the forum, I closed it down and won't consider it again. That experiment failed spectacularly. Moving on…
I'm not saying that jerks in forums are responsible for the lack of Linux uptake in the world of Everyday Computer Users, but should you be one of the aforementioned jerks, your asshattery is certainly responsible for running new users off. I often tell people that most folks will only switch operating systems when their pain threshold has reached the redline. On the other side of that, I am guessing new users hit that redline immediately when forum responses are as brutal as telling a young lady to go get drunk and do incestuous things. And yeah, I understand that's an extreme and not the norm.
Maybe the forums are not as bad as they were five to seven years ago. Whaddaya say we test that out? Let's see just how much people pay attention when a good idea is presented and what it takes to get that idea implemented.
There is now a $100 bounty for the person who can get the save dialog in LibreOffice to clarify the format options in the dropdown menu. So gird your loins for whatever flak you might take. Let's see the responses for implementing this idea.
Ken Starks is the founder of the Helios Project and Reglue, which for 20 years provided refurbished older computers running Linux to disadvantaged school kids, as well as providing digital help for senior citizens, in the Austin, Texas area. He was a columnist for FOSS Force from 2013-2016, and remains part of our family. Follow him on Twitter: @Reglue