Emmabuntüs is a GNU/Linux distribution that's definitely set apart from the crowd, as its developers are motivated less by a love for technology than by a connection with humanity.
The Emmabuntüs Community today announced the third maintenance release of Emmabuntüs 3, version 1.03, based on Xubuntu 14.04.4. Like its *buntu namesake, the distro ships with the Xfce desktop by default, but also includes LXDE as an option.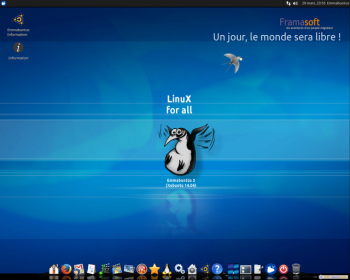 What sets Emmabuntüs apart from other GNU/Linux distributions is the fact that it's a distro with a mission. The informal community responsible for the distribution initially came together sometime before 2012 with the purpose of creating a distribution to simplify the task of refurbishing used computers to be given to charity organizations, with the key recipient being Emmaus, a secular international organization founded in Paris in 1949 by Catholic priest and Capuchin friar Abbé Pierre to combat poverty and homelessness.
Although there is no official connection between the community developing the distro and Emmaus, the Emmabuntüs community adheres to Emmaus principles as set forth in the Emmaüs Movement Manifesto. As originally planned, the distribution was not developed for the public to download and install, but to be used by the community to install on computers refurbished and sold by the community or other charitable organizations.
The stated goals of the community are threefold:
To address issues of poverty by giving new sources of income to charitable organizations that sell refurbished computers.

To address the digital divide in France, the world in general, and Africa in particular through the spreading of a distribution that is "extended by free data."

To address the waste of resources induced by the over-consumption of raw materials, by increasing the lifespan of computer hardware.
The latest and greatest version of Emmabuntüs 3 contains numerous bug fixes and enhancements. This version, as well as previous versions, can be downloaded from the Emmabuntüs download page.