Apricity OS, another promising Linux distro has ceased development. "Lack of time" was cited as the major cause.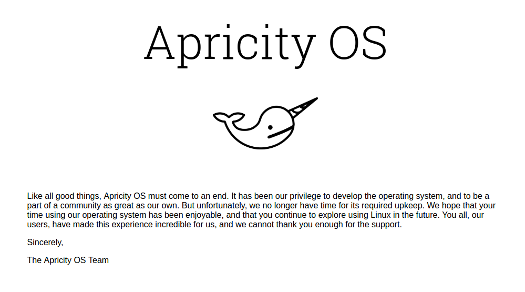 The Arch Linux based distribution, Apricity OS, has announced in an undated notice on its website that it's shutting down. I learned the of news today when given a heads-up by a follower on Twitter.
The announcement is short and sweet:
"Like all good things, Apricity OS must come to an end. It has been our privilege to develop the operating system, and to be a part of a community as great as our own. But unfortunately, we no longer have time for its required upkeep. We hope that your time using our operating system has been enjoyable, and that you continue to explore using Linux in the future. You all, our users, have made this experience incredible for us, and we cannot thank you enough for the support.

Sincerely,

The Apricity OS Team"
A little over a year ago, on March 29, 2016, the then still in beta distro received a review on LinuxInsider by Jack M. Germain, who said, "Apricity OS Is Clean and Classy." In spite of being in beta, the review was positive:
"Regardless of your preference, Apricity OS takes an approach that most Linux distros ignore. It caters to the cloud generation of computing. It has an integrated software feature built around the site-specific browser manager ICE, which provides the ability to put your favorite Web apps on the desktop and access them simply.

"This type of browser tool is not readily available through most distro repositories and the Synaptic Package Manager. The developers also incorporated software to minimize security risk.

"Another reason for my newfound attraction to GNOME is its suitability for touch screen interfaces, so it was a perfect mate for a recently acquired laptop. The Cinnamon version appears to be somewhat more lightweight — another nice surprise."
The distro offered the choice of both GNOME and Cinnamon desktops. Unlike Arch, according to Germain, it was easy to install.
On Ausust 5, 2016, It's FOSS reported on the distro's first stable release. About a month later, on September 12, 2016, Distrowatch's Jesse Smith wrote a review in which he said, "I like what Apricity is trying to do. The project is relatively new and off to a good start. There are some rough edges, but not many and I think the distribution will appeal to a lot of people, especially those who want to run a rolling release operating system with a very easy initial set up."
The distro currently has a popularity ranking of 39 on Distrowatch.
Christine Hall has been a journalist since 1971. In 2001, she began writing a weekly consumer computer column and started covering Linux and FOSS in 2002 after making the switch to GNU/Linux. Follow her on Twitter: @BrideOfLinux