After nearly a year and a half with an uncertain future, Mozilla tells Thunderbird it can stay and that its future is now certain — in a most uncertain way.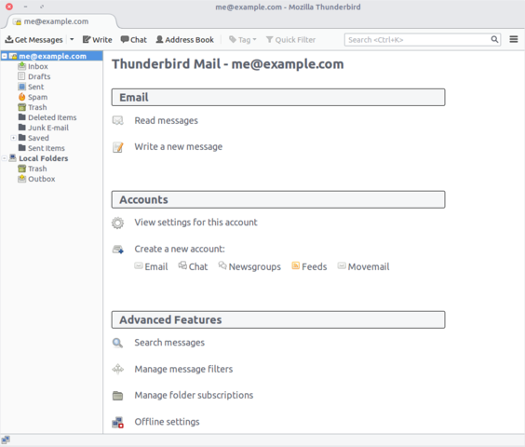 This is complicated. Mommy Mozilla has eased up about kicking her child Thunderbird out of the house. T-bird can stay, but must live in the basement or in the room above the garage or something — and no more free ride. From now on, it must pay its way and obey house rules.
I'm joking, of course. Well, not exactly.
You might remember, back in December, 2015, Mozilla put Thunderbird up for adoption, saying it considered the popular email client too draining, both in terms of developer time and finances. Back then, some wondered if the main reason was because email clients aren't sexy enough in a day and age when most consumers are using web-based email — which might be closer to the truth than Mozilla is willing to admit. Be that as it may, plenty of people — myself included — still rely on local email clients, for privacy reasons if nothing else.
At the time, Mozilla executive chairperson Mitchell Baker wrote in a company-wide memo, "Mark Surman [Executive Director] of the Mozilla Foundation and I are both interested in helping find a way for Thunderbird to separate from Mozilla infrastructure. We also want to make sure that Thunderbird has the right kind of legal and financial home, one that will help the community thrive."
Mozilla even went so far as to commission a report from well known FOSS advocate Simon Phipps, the former president of the Open Source Initiative.
"The Phipps report saw three viable choices for the Thunderbird Project's future home: the Software Freedom Conservancy (SFC), The Document Foundation (TDF) and a new deal at the Mozilla Foundation," Philipp Kewisch, senior add-ons technical editor at Mozilla, reported Tuesday on the Thunderbird Blog. "An independent 'Thunderbird Foundation' alternative was not recommended as a first step but the report said it 'may become appropriate in the future for Thunderbird to separate from its new host and become a full independent entity."
Long story short: Mozilla has decided to continue to be Thunderbird's parent and not send it packing to a foster home — as long as it doesn't have to do any actual parenting. T-bird has to find its own infrastructure — I assume that means it'll need to provision its own servers and all that go with them — and figure out a way to come up with its own funding. Right now its answer to that is to panhandle…er, rely on donations.
"Many months of donations have developed a strong revenue stream that has given us the confidence to begin moving away from Mozilla-hosted infrastructure, and to hire a staff to support this process," said Kewisch. "Our infrastructure is moving to thunderbird.net and we're already running some Thunderbird-only services, like the ISPDB (used for auto configuring users' email accounts), on our own."
There's no indication about who is doing the donating. My experience is that revenue streams relying solely on donations can be difficult to maintain over time, unless the donations are tied to corporate sponsors who have a vested interest in the project.
Thunderbird must also abide by some house rules in order to stay at its old new home:
"The Mozilla Foundation has agreed to continue as Thunderbird's legal, fiscal and cultural home, with the following provisos:

The Thunderbird Council and the Mozilla Foundation executive team maintain a good working relationship and make decisions in a timely manner.
The Thunderbird Council and the team make meaningful progress in short order on operational and technical independence from Mozilla Corporation.
Either side may give the other six months notice if they wish to discontinue the Mozilla Foundation's role as the legal and fiscal host of the Thunderbird project.

Mozilla would invoke C if A+B don't happen. If C happened, Thunderbird would be expected to move to another organization over the course of six months."
I'm not so sure Mozilla will offer a good home in the long run. However, short term, this might work out well for the email client, which relies on Mozilla's help implementing the Gecko rendering engine they both use. Unfortunately, the browser folks have plans down the road to replace Gecko with Rust-based Servo.
"Thunderbird will remain a Gecko-based application at least in the midterm," Kewisch said. "but many of the technologies Thunderbird relies upon in that platform will one day no longer be supported. The long term plan is to migrate our code to web technologies, but this will take time, staff, and planning. We are looking for highly skilled volunteer developers who can help us with this endeavor, to make sure the world continues to have a high-performance open-source secure email client it can rely upon."
Those highly skilled volunteer developers most likely won't come from the ranks of Mozilla. In December, 2015, Mitchell Baker complained, "Engineers working on Firefox and related projects end up considering the competing demands of Thunderbird, and/or wondering if and how much they should assist Thunderbird. Neither project can focus wholeheartedly on what is best for it."
Personally, I still think Thunderbird would be a good fit for The Document Foundation.
Christine Hall has been a journalist since 1971. In 2001, she began writing a weekly consumer computer column and started covering Linux and FOSS in 2002 after making the switch to GNU/Linux. Follow her on Twitter: @BrideOfLinux