Publishers of WordPress sites using the 'Poll, Quiz & List by OpinionStage' plugin, might want to check for unexpected advertisements.
FOSS Force has learned that the popular WordPress plugin "Poll, Quiz & List by OpinionStage" has been placing advertisements within photographs included in online quizzes that have been created using the plugin. The plugin is used by over 10,000 WordPress sites to create quizzes, polls and list articles.
Publishers using the plugin are not being made aware that ads are being placed on their sites unless, perhaps, they visit the plugin developers' website and go to the "Pricing" page, where the developers say information about the policy is available. I say "perhaps" because we have been unable to find any such notice on this page. We discovered the issue on Sunday when considering whether to manually migrate the single FOSS Force Quiz created using the plugin to another quiz app we've since adopted as our default.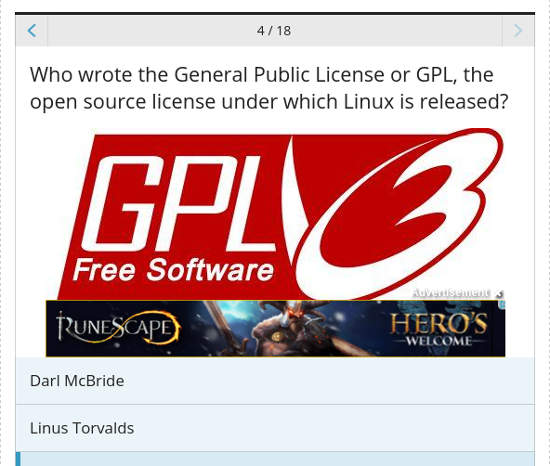 Christine Hall has been a journalist since 1971. In 2001, she began writing a weekly consumer computer column and started covering Linux and FOSS in 2002 after making the switch to GNU/Linux. Follow her on Twitter: @BrideOfLinux