I first placed music online in 1996, a WAV file recorded through a microphone to promote the sale of an album I had under license on my indie BeanBag label featuring Georgie Fame and Van Morrison. I cheered for other music industry executives like Larry Rosen of GRP Records when he launched Music Boulevard online around 1997. I licensed songs by Jesse Colin Young (founder of The Youngbloods) to music publishing expert Bob Kohn's eMusic.com for a cash advance against future royalties that had us partying like it was 1999.
But by the year 2000, any hope of that engagement between legal music and the Internet leading to a new future was pretty much dashed by an online startup corporation named Napster that provided free music downloads. Though a Federal court would find Napster guilty in 2001 of providing illegal copying similar to a counterfeiting operation, the business model known as "DMCA 'Safe Harbor' corporations" was launched.
Wired magazine, in their February 2003 cover article "The Year The Music Dies," reported that the future digital music business model that included free MP3 downloads would limit the avenues for an artist's profit to either "selling their music to advertisers," or "from the American Idol model building recognition as part of a corporate campaign to the Broadway show model getting ad hoc groups and small investors to provide funds." Ten years later that is a stunningly accurate prediction and seems to reveal technology's responsibility for the state of music today.
In 2000, I went to work for an online software company named Musicmatch in San Diego, where CEO Dennis Mudd was considering how his company was going to enter this brave new music world. At the time, senior executives at Musicmatch were urging Mudd to go illegal with a pirate Napster-style software called Matchster, and not license with labels until after what was expected to be long drawn-out confrontations by "Safe Harbor" corporations that were not paying anything at all. Dennis Mudd made what proved to be the correct assessment for his corporation's future and helped create the blueprint for streaming music deals with labels and the RIAA.
The Musicmatch "ripper/burner" software that made the company famous created high-quality mp3s fast and also burned them onto blank CDs. That software came preloaded as freeware, paid for by Musicmatch, on many different brands of personal computers, with an upgrade opportunity. Many new computer owners at the turn of the millennium opened the free software and asked, "Where's the music?" New users did not understand that they had to provide the music themselves.

To solve this problem, Mudd brought me on board to create Musicmatch Radio, music streams placed on the software so that users would have instant music available. I decided to launch with an initial 25 genre-defined streams under DMCA compliance. Musicmatch Radio was an immediate online success! The Musicmatch corporation sold to Yahoo in 2004 for a reported $160 million dollars. While it was an OK financial return for the investors, it was a sad day for the fans, as the cutting-edge software died at Yahoo and was shut-down completely by 2008.
Mudd started Slacker Radio in 2007. I am happy to say that I was brought aboard at Slacker.com and still curate the music programming for the Modern Blues and the Reggae channels there. While most people might rightfully assume that I have an allegiance to Slacker, I also respect other Internet radio pioneers like Radio Paradise and Pandora as being friendly competitors in our growing online profession.
I have had to separate Pandora from that online camaraderie, however, because I am also a manager of musicians and an owner of music copyrights. In the summer of 2012, Pandora partnered with big media corporations like Clear Channel to sponsor a bill called the "Internet Radio Fairness Act" with the sole purpose of lowering musician payments by as much as 85% for songs played as online content for those corporations. The principle sponsor of the bill is Representative Jason Chaffetz (R-UT) who was joined by Rep. Jarid Polis (D-CO) and Senator Ron Wyden (D-OR).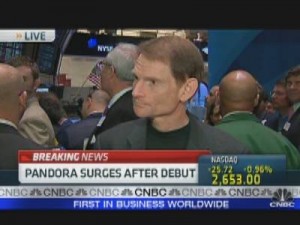 Joe Kennedy was president of Pandora when he spoke at the May CTIA 2012 show and announced that they had 150-million registrants. Industry-insiders estimate that well over 50-million of those may be free users because Pandora had previously reported more than one-third were non-paying listeners. I recently exchanged emails with Pandora founder Tim Westergren and suggested to him that trying to make a "business" out of giving away tens of millions of someone else's product while paying the price that he knew and accepted beforehand was a self-made problem.
Ray Hair, international president for the American Federation of Musicians wrote in The Hill, the Congressional blog:
"…new legislation in Congress known as the 'Internet Radio Fairness Act' could set us back decades… The bill would effectively unleash a race to the bottom, with radio platforms competing to see which can pay musicians the least… People I know are already calling the bill by a more appropriate name: the 'Internet Radio Rip-off Act.'"
David Lowery, founder of the bands Cracker and Camper Van Beethoven, went even further in his attack:
"As you may or may not know, Pandora is trying to push a bill through congress that would slash payments to artists by as much as 85 percent… Forget for a moment that it's the ultimate in crony capitalism; a congressional bill basically designed to increase the profit of one company! Forget the fact that Pandora was fine with these rates when it was selling its IPO on its roadshow! Forget all that. For now just focus on one thing. This bill is an anti-collective bargaining bill! A union busting bill for artists. They want congress to pass a bill that would strip musicians' rights to collectively bargain!"
Quoting directly from the original "Internet Fairness Radio Act" section that would muzzle the free speech of artists:
"(B) by adding at the end the following: `Nothing in this paragraph shall be construed to permit any copyright owners of sound recordings acting jointly, or any common agent or collective representing such copyright owners, to take any action that would prohibit, interfere with, or impede direct licensing by copyright owners of sound recordings in competition with licensing by any common agent or collective, and any such action that affects interstate commerce shall be deemed a contract, combination or conspiracy in restraint of trade in violation of section 1 of the Sherman Act (15 U.S.C. 1).'"
It is certainly discouraging for those who once believed in a new future of equitable sharing and freedom of speech online to discover that Pandora joined Clear Channel and other giant media corporations to spend hundreds of thousands of dollars to lobby Congress on behalf of taking money and rights away from artists.
On November 15, 2012, music artists spoke out as a collective through an open letter in Billboard that said among other things:
"Pandora is now enjoying phenomenal success as a Wall Street company. Skyrocketing growth in revenues and users. Why is the company asking Congress once again to step in and gut the royalties that thousands of musicians rely upon? That's not fair, and that's not how partners work together."

Signed by: Bryan Adams, Alabama, Greg Allman, Steve Angello, Rodney Atkins, Sara Bareilles, Big Bad Voodoo Daddy, Clint Black, Jack Blades, Blondie, Jonatha Brooke, Jackson Browne, Jimmy Buffett, Oteil Burbridge, The Cab, Colbie Caillat, Camper Van Beethoven, CoCo Carmel, George Clinton, Keyshia Cole, Common, Easton Corbin, Cowboy Mouth, Cracker, Randy Crawford, Robert Cray, David Crosby, Joel Crouse, Sheryl Crow, Drew Davis, Taylor Dayne, Dead Kennedys, Raheem DeVaughn, The Doors, Down, The Dream, Vikter Duplaix, Missy Elliott, Lupe Fiasco, The 5th Dimension, Flyleaf, John Fogerty, Guy Forsyth, The Game, Vince Gill, David Gilmour, Genevieve Goings, Martha Reeves, Rihanna, Eric Roberson, Darius Rucker, Rush, Bobby Rush, Joe Sample, David Sanborn, Skid Row, Michael W. Smith, Britney Spears, Dave Stewart, Survivor, T.I., Susan Tedeschi, Robin Thicke, George Thorogood, Toto, Butch Trucks, Derek Trucks, Josh Turner, Frankie Valli and Bob Gaudio (The 4 Seasons), Dionne Warwick, Roger Waters, Bobby Whitlock, Whodini, Chuck Wicks, Otis Williams (The Temptations), Ann and Nancy Wilson (Heart), BrianWilson, BeBeWinans, Zac Brown Band, Andy Grammer, Amy Grant, CeeLo Green, Gyptian, Warren Haynes, Don Henley, Hootie and The Blowfish, Mallary Hope, Bruce Hornsby, Mick Hucknall (Simply Red), The J.Geils Band, Jaimoe, The Jazz Crusaders, Billy Joel, John Paul Jones, Mick Jones (Foreigner), Journey, Jim Kerr and Charlie Burchill (Simple Minds), KISS, Jana Kramer, Ludacris, Maroon 5, Nick Mason, Duff McKagan, Megadeth, Janelle Monae, Alissa Moreno, Jason Mraz, Nas, Graham Nash, Ne-Yo, Stevie Nicks, Night Ranger, Ted Nugent, Owl City, Christina Perri, Katy Perry, Pink Floyd, Robert Plant, John Pointer, The Pointer Sisters, Primus, Marc Quinones, Joel Rafael, Trisha Yearwood, Bonnie Raitt.
Two weeks after the letter, Artists For An Ethical and Sustainable Internet reported that at the first Congressional committee hearing for the IRFA bill, on November 28, 2012:
"Democrats and Republicans alike were scornful and clearly not interested in hearing Pandora's ginned up unfairness crap. Not only did they seem to disagree with Pandora's argument for lower royalties, the committee went completely off the reservation and began to question why terrestrial radio doesn't pay royalties to performers."
Pandora had seemingly lost their fight early in the first round of congress. Adding to their troubles, Apple iRadio was announced as a major competitor, set to crank-up in the fall of 2013, and rumored to pay lower song fees through their direct negotiations with music representatives. So what did Pandora do?
According to Fox Business News on June 12, 2013:
"Pandora Media agreed to buy a South Dakota radio station in order to qualify for lower music royalty rates, according to a regulatory filing. By acquiring Rapid City-based KXMZ-FM, a small terrestrial station, the Internet radio company believes it can pay lower royalties to music publishers using a digital-radio license rather than its separately negotiated deals with the American Society of Composers, Authors and Publishers (ASCAP) and Broadcast Music Inc (BMI)."
I am sympathetic to a big part of the problem here being the different royalties paid by online, offline, and Safe Harbor corporations. All Internet and almost all terrestrial radio stations around the world pay both a fee to songwriters and to song performers. Terrestrial broadcast radio in the United States has successfully lobbied Congress to be exempt from paying the performers of the music (Frank Sinatra used to complain bitterly about this). Pandora is now trying to claim that by having purchased the South Dakota terrestrial broadcast radio station they can pay that royalty without the performer fees paid by Internet Radio.
There are many obvious contradictions here, not the least of which may be the difference between the technologies, as Pandora features a "skip" button and artist-on-demand that broadcast radio cannot match. Another is that taking advantage of royalties set for broadcast stations by a known Internet company seems so frivolous that Congress may mandate broadcast radio to now pay both performer and writer like everyone else in the world, rendering the Pandora move useless. If that happens, the next logical step by Pandora and broadcast radio might be to claim classification as Safe Harbor corporations and have listeners post the music for them, wiping out significant portions of our economy and media even further.
I hope some of you can agree that it is unfair for Pandora and American radio to pay fees (that help feed a few musicians) from their advertising income earned when playing the same song that some Safe Harbor corporations pay nothing for, keeping all the ad sales money themselves (not paying musicians or writers).

Isn't this really just Napster all over again? As Wired magazine said, the Safe Harbor law "is a provision that provides ISPs, hosting companies and interactive services near blanket immunity for the intellectual property violations of their users." That makes it clear as to why enforcement was directed against users like college students while corporations were protected.
Helienne Lindvall, an award-winning Swedish-British journalist recently posted an update on Safe Harbor infringement enforcement noting the "20-millionth takedown to Google alone" helps explain the title, "Experts Agree: The DMCA Takedown System Is a Joke, and Must be Scrapped…"
Google has been forced to recognize the magnitude of breaches within their companies and recently started offering victims the choice of licensing or taking the material down. Just as Napster first discovered nearly 15-years earlier, Silicon Valley Safe Harbor corporations are finding it necessary to license material under copyright to remain legal. The DMCA Safe Harbor provision has proven to be unmanageable, unnecessary, and usually illegal.
Please join me in the campaign to correct this Pandora's Box of Internet laws and repeal the Safe Harbor Provision, placing all corporations on an equal playing field without unfair exemptions granted to a questionable few.