Look…let's face this together. Dating can suck.
When you're young, it's an adventure. One has relatively little baggage, the emotional scars are few and you haven't even begun to think about dating's therapeutic value yet. In other words, the dating world is your oyster.
Then you find yourself at midlife, when you've accumulated a large pool of of crises. You know, stuff like that divorce or two under your belt, some strong political or religious beliefs that are deeply ingrained and…oh yeah…that messy conviction for hacking that's still on your record. These are things that tend to narrow down the potential list of candidates for life-long bliss.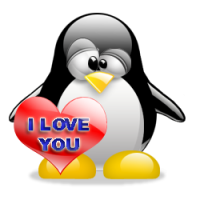 Then, toss your obsession with Linux into the mix and what do you get?
More than likely a room at your mom's house and a NASA-level computer bank in her basement. The neck beard and questionable hygiene habits don't help matters either.
Eventually, you come to realize that there's more to life than Bash scripts and LAN parties with your Linux geek buddies. Well, maybe you do…or maybe not. If you do, you might decide to put yourself back on the dating market. Where do you start? I think we can all agree to rule out LUG meetings, Linux Foundation events and the laundromat. The ratio for men to women at these locations is bleak.
Let's say, just for argument, that you miraculously run into someone who bothers to look at you twice…I mean without pity or fear or the strong urge to call the law. What's your next move? How does a Linux geek approach someone?
"Hi, wanna see my raid array?"

"Did you know that over half of Cray supercomputers run Linux?"

"So…your home directory or mine?"
You realize, returning to your mom's basement, that these lines didn't provide the desired results. Combing the internet for dating tips, you decide that just maybe the tech passion of your life isn't congruent with finding someone that will touch you…I mean aside from accidentally or by the emergency room nurse who has to touch you because that's her job…and because she's protected by latex gloves.
Let's further assume that you are able to cast off or conceal your geekness, get a haircut, trim your beard and join the rest of society…
Yeah, I know it's a stretch but work with me here.
What if you actually find yourself on a third date and she hints that she wants to develop a relationship? What the hell are you going to do then?
You probably haven't been able to completely hide the fact that you are good with computers. Some things bubble to the surface regardless of how hard you try to keep them secret. Like the song says, you can take the boy out of the geek, but you'll never take the geek outta the boy…or something like that.
Anyway, she's running Vista on her home computer and is complaining that her computer is running slow and that she keeps getting these annoying popups. She wants you to come over and fix her computer.
You remember right away that the last time you were alone with a female in her home was when you had that disastrous misunderstanding with your cousin's best friend. That whole "I'm-sorry-I-was-just-trying to-get-the-cap-off-my-thumb-drive-that-popped-and-landed-in-your-lap" thing didn't work out so well for you. At least she slapped you…the last time you were actually touched by a woman other than Mom.
That counts as female contact…kinda. No?
So there you are, just you and her alone in her apartment, sitting in front of her computer. You can smell her perfume (it's actually just soap but it smells wonderful to you just the same). You can't help but notice her long hair and how it flows across her shoulder. You focus again on the screen in front of you, clicking on the start menu. You know it's going to take three minutes just to open the dialog box. After all, this is Windows.
This is your chance.
"You know, if you didn't use Windows you wouldn't have these problems."
Here it comes, but you are used to it by now…the blank stare, the look that communicates, "Uh…what?"
You go on to explain that there are different operating systems for a computer, that Windows is only one option. She bites her lower lip in contemplation then smiles and nods enthusiastically.
"Oh no, I have an operating system. It's called Facebook."
You patiently explain that Facebook is just a web-based interface that allows her to share some of her life with her friends and that the operating system is simply a means she uses to interact with her computer.
She seems a bit exasperated. "I have that already." she says. "It's called Internet Explorer…I use it all the time."
You take a deep breath and reach for your laptop. You pull a live CD from the case and tell her that you want to show her what Linux is. You explain that Linux is free and that she can use it without any real worry about viruses.
She refuses.
"Hey, I don't want you putting things on my computer just yet, I mean, I don't even know you very well. Those popups say that I have a virus and all they want to do is help me take it off. All I have to do is click the button and they will take care of it for me for $39.95. I just met you. I don't know what kind of stuff you are going to put on there. You might put on spyware or something.
"I think you better leave now."
The last word she says rings in your ears.
"Jerk."
Back home in your basement you slam down your third Red Bull and wonder what in the hell happened and how it went south so quickly.
"That's it," you mentally exclaim, having an eureka moment. "Facebook! I'll meet someone on Facebook."
Maybe she'll even post a picture less than 5 years old.
Or maybe you will.
Or not.
And for this you're even going to shave.
Which brings us back to where we came in. Dating sucks…