Iowa has come up with a plan which I'm adding to my "bad idea" list — driver's license by phone app.
It seems that beginning next year, which is now less than three weeks away, the good and cold state will be experimenting with issuing driver's licenses as mobile apps rather than the old fashioned plastic kind that are best kept in a wallet. According to CNN, the app will be legal identification and will be secured by use of a PIN number. The app can also be secured using fingerprint or facial recognition technology said Andrea Henry with the Iowa Department of Transportation.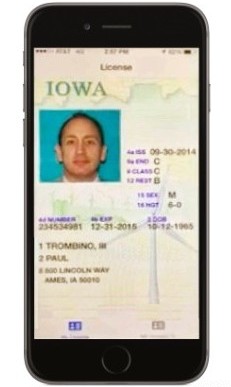 The program is being pushed as an option of convenience. Iowa drivers can choose the app, an "old fashioned" plastic license or both.
"Really, it's about giving customers a choice," says Henry. "We're in an increasingly mobile world, and there are so many things that are connected to your mobile phone."
WHO TV in Des Moines reported that one security feature of the app license is that the driver's face will be constantly in motion, rotating from side to side.
"It shows you it is real," explained Iowa Department of Transportation's Director, Paul Trombino. "It gives you a real perspective. There's a lot of ways for us to offer security features which I'm not going to prescribe today so that, we know it's the person."
Although this may sound way cool to the folks who see being tethered to expensive data plans as a privilege to be savored, to me it smacks of Big Brother and 1984.
Over at CNET, Chris Matyszczyk agrees. He comes up with a picture of the future that may not be all that far fetched — especially if we remember to old adage that the policeman isn't always your friend:
"If I hand them my phone in order to show them my license, won't it be a little tempting for them to check what else I have on it? After all, during many a traffic stop, an officer will ask you to stay in your car, take your license and insurance, then go back to his or her own vehicle to check their legitimacy.

"If your phone was taken, wouldn't the temptation of additional discovery be too great? After all, who could forget the police officer who insisted that everyone who plays frisbee golf must be a pot smoker? (That happened in, oh, Iowa.)

"What if he had the frisbee golfer's phone in his vehicle and tried to search it to confirm his hunch?"
Yup. Sounds about right to me.
Evidently, this is also a plausible scenario to the folks with Iowa's DOT — which probably means they don't have any misconceptions about their men in blue. According to the DOT's Ms. Henry, the app might possibly include a feature that will allow police to scan a driver's phone license onto their own phones.
"We're also looking at technology that might lock the rest of your phone and only leave the driver's license app open," she added.
Again, my fear is that this might open the Big Brother door even wider than it already is.
Sure, the phone license app might be offered as a option at first, but how long until it becomes a requirement and old fashioned plastic licenses are no longer available? This would mean that anybody who wants to drive a car, at least in Iowa, would have to invest in a certified NSA ready smartphone and data plan. If this sounds far fetched, think of the amount of required government paperwork that's now only available online and sometimes must be filled in and filed from a computer.
At the risk of seeming to get the cart in front of the horse, let me ask: Wouldn't this constitute yet another tax on the poor?
This would also open another door for those who want to squelch the vote in the name of stopping voter fraud.
How long after cell phone licenses become the status quo before overzealous state legislatures begin passing laws requiring voters at polling places to show proof of their right-to-vote on cell phones? If you think that photo IDs pose a hardship on the urban poor, just wait until they have to come up with a cell phone and data plan. And if a public-transportation-riding single mom living on public assistance has to decide whether to feed her kids or fork money over to Verison or Crickett so she can vote, what decision do you think she'll make?
You may think me paranoid, and possibly I am. But as the old joke goes, just because I'm paranoid doesn't mean I'm wrong.
Christine Hall has been a journalist since 1971. In 2001, she began writing a weekly consumer computer column and started covering Linux and FOSS in 2002 after making the switch to GNU/Linux. Follow her on Twitter: @BrideOfLinux