Jim Anderson
There's been a lot of interesting Linux news of late. Not just GNU/Linux, but all types of Linux, Android, Chrome OS, Firefox OS, embedded (IoT), cloud computing, cars, TVs, just about anything you can think of. But truth be told, I'd like to see more Linux on the desktop — just as Linus Torvalds said he would like to see.
The recent purchase of a Chromebook for my son got me thinking about a new opportunity for Linux on the desktop. This is not an idea for getting a standard GNU/Linux desktop to automagically replace all existing Windows desktops, but to leverage the cloud computing paradigm with a bulked­-up Chromebook-­like system that would be workable for 80 to 90 percent of personal, school, and business needs.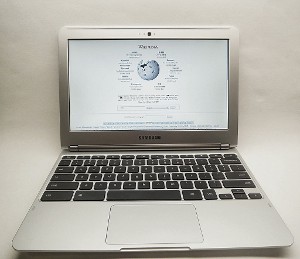 Let me explain.
At the most basic level, people need a computer to go on the Internet, which is why Chromebooks are starting to get popular. They do this well, with a minimum of fuss, fixing, and malware problems. Schools are looking at Chromebooks because of these pluses, in addition to their ability to be used productively, as opposed to consumption ­oriented tablets.
While Chromebooks are great network computers, not everything needs or can be done online. Then there's the issue of Chromebooks' requiring a Google account, which puts you into one company's sphere of influence (otherwise known as vendor ­lock-in).
Businesses need manageability, security, net workability, and the ability to run applications beyond what Google offers. For the most part this has meant a Microsoft world of Windows desktops and servers and MS Office. However, businesses are increasingly looking at the cloud and the web, and this can create a new opportunity for Linux. Imagine schools and offices with Chromebook and Chromebook-­like devices, with available core local applications that are easily networked and managed with existing infrastructure, running off cloud services and/or local servers.
These devices could run the open source Chromium OS, a desktop version of Firefox OS or something similar, only it would be beefed up with a local office productivity suite and various types of accessories, such as a file manager, calculator, media player, PDF viewer, scanning tool, and a printer manager. Somehow Puppy Linux manages to do something like this using only 300 MB.
Not tied to any particular vendor, the device would be able to join any networking domain and be managed seamlessly. It would have a choice of cloud computing services as well as local storage, printing and the like. If specialized software and databases are needed, it could happen through a web ­based interface or via an app. With an emphasis on web based software, it would avoid the complexities that Linux distributions and desktop environments pose for software providers. Nothing would prevent browser ­based software from being used by traditional Linux desktops.
As for us regular folks, we maybe don't need network management, but cloud storage/services, local printing/scanning, lightweight open source local applications and not being tied in to either Google or Microsoft — maybe so.
I think there might be a general market for a low ­maintenance desktop like this. Certainly it would help prevent trading one monopoly (Microsoft) for another (Google). There'll always be a market for a fat desktop because of its power and flexibility. However, not every worker or student needs a powerful computer to go on the Internet, get email, or write a report (or listen to music or watch a movie).
Would my idea fulfill everyone's computing needs? Probably not. But we're in a world of multiple computer devices with differing goals for many in school or business. A lightweight productivity tool may be all that many people need.