Your digital rights — do both your hardware and software respect them?
Because if they don't, Purism might have the answer to this shortcoming.
At OSCON, Purism has on hand the Librem 13 and Librem 15 laptops – the numbers designating the screen size (13-inch and 15-inch, respectively) — which are both designed, chip-by-chip and line-by-line to respect your rights to privacy, security and freedom, which is Purism's philosophy.

"We developed Purism so that users can have access to the highest quality computers without compromising these beliefs," the Purism website states. "The founder of Purism developed the Philosophical Contract, that we all abide by, which was adopted from the Free Software Foundation, and expanded to include hardware manufacturing as it relates to software."
Purism founder and CEO Todd Weaver, who is on hand at OSCON to demonstrate the hardware, takes us through the process of producing this hardware.
After determining that the motherboard and processor are ready for completely free software, Purism runs a coreboot BIOS, a completely free GRUB bootloader — "completely free meaning stripped-from-all-binaries Linux kernel," Weaver said — under a GNU OS with all the free-as-in-freedom software that is included on top of that.
The distro? PureOS, which is a Debian-based distribution altered to be completely free, as in — say it with me once more — freedom.
To the causal observer wondering why having hardware that respects your rights is so important, Weaver provides us with an "obvious answer" to the question.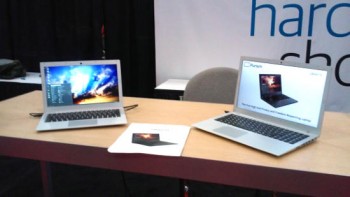 "There are many things — the obvious answer is that there are no backdoors put in on the binary level or the hardware level, or any threat models that can exploit the hardware or software that can run in those binaries," Weaver explained. "So everyone else who manufactures software has a 'trust us' model, but we of course take the Free Software Foundation's approach to 'trust but verify' model."
So far, Purism has sold out of the 15-inch model and the Revision 2 will be available in September. The 13-inch will also be available as early as September and possibly October. For specs on the hardware, visit their products page.
To purchase a Purism Librem 13 or Purism Librem 15 laptop, visit their Crowd Supply page.
This article was updated on July 23, 2015 at 8:30 p.m. to correctly identify the Purism operating system as PureOS.
Help keep FOSS Force strong. If you like this article, become a subscriber.