In last week's wrap-up, I posted an item about both Sarah Sharp and Matthew Garrett ceasing their contributions to the Linux kernel, and I was going to leave it at that and let those who read their blogs, as well as reports here and elsewhere, draw their own conclusions.
But giving it some thought over the weekend — not dwelling on it, of course, because the baseball playoffs are currently in progress — it occurred to me that many of the issues are not being addressed, and that's going to continue to fester. The result of that remains to be seen and, sadly, this is par for the course in FOSS circles. That has been mentioned on many occasions elsewhere, so we won't go into it here.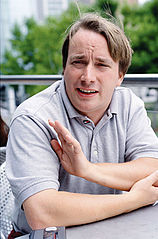 To recap, Sarah is out — a long-time contributor who is no longer contributing. This, of course, led to Matthew being out as well, for somewhat related reasons.
Inside the Linux Kernel Mailing List where this drama transpired, my guess is that it's business as usual: Square One at frat-boy central is moving along as usual, with caustic feedback to those participating. That is, when they're not giving each other digital wedgies and noogies.
But to those of us looking at this from the outside, what we see is a magnificent irony of good code being produced in what can arguably be described as a toxic environment. That in and of itself is a remarkable achievement, but I would argue that the same work — if not better work — can be done in a realm that fostered more cooperation instead of sniping.
Some argue that the culture of the current Linux Kernel Mailing List trickles down from "Linus being Linus," and the Finnish way of doing things. I don't believe that, and if that's the excuse and it's the best one can do, then it's woefully weak. Linus' achievements, though historic, do not give him a pass in being a schmuck. Yes, a schmuck — anyone who urges people to commit suicide over having to use an admin password to print something (don't believe me? Take a look here) — reduces a larger-than-life figure to a mere mortal, and not a very civil or pleasant one at that.
I'm with Matthew when he says this: "In the end it's a mixture of just being tired of dealing with the crap associated with Linux development and realizing that by continuing to put up with it I'm tacitly encouraging its continuation, but I can't be bothered any more."
What it boils down to is this: If Matthew can't be bothered, why should I, or any other interested party, be inclined to contribute?
You might say that those who are critical of the behavior on the list are not grateful for their work, and to make that assumption is a laughable mistake. It's not the work under indictment, once again it's the attitudes. The prevailing caustic attitude may change and it may not, but if the latter course is chosen, then the list continues in its cancerous way at its own peril.
Help keep FOSS Force strong. If you like this article, become a subscriber.