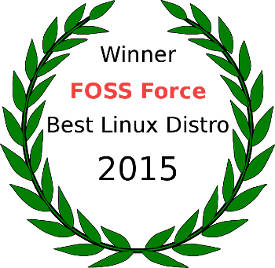 The FOSS Force Poll
It's time for our annual "What's Your Distro" poll, to determine who gets the FOSS Force Best Distro Award for 2015. This year we're pulling out all the stops. We want this one to be a metaphoric old fashioned slug fest that will be played until only one distro is standing.
Do you think your distro has what it takes to grab the brass ring and come out a champion? Then it's time to get busy. Get to your distro's forums, post on your favorite email lists, go social — like a good political boss working out of a smoke filled room in Chicago, it's up to you to get the vote out for your distro, because if you don't do it…who will? You don't have much time. We pulled a surprise attack and put our poll up on Friday, so it's already been collecting votes for three days already…maybe for distros other than your favorite.
But don't worry too much. This is only round one, the qualifying round, and voting doesn't usually get heavy until the "official" announcement, which is what we're doing here. The real fun will begin on Friday, when the second and final round goes up. In the meantime, you've got to gather your troops, the other loyal users of your distro, and get enough votes to make it through the qualifying round.
The voting so far is making this year's poll look like something of a repeat of our 2014 poll, which was held last March. In that contest, Ubuntu came out ahead with 473 votes, but only by a nose, as second place Linux Mint finished only eleven votes behind. The third place winner, openSUSE, also made a respectable showing, with 417 votes. All other distros were way behind the pack, with fourth place Arch nearly 150 points back. You can check out the stats on last years Linux distro World Series yourself on the article we published after the dust had settled and the ticker tape had been swept away.
Our new poll offers-up for your choice ten of the top eleven distros on DistroWatch's famous — or infamous, depending on who's talking — distro list. If your favorite Linux flavor didn't make the list, don't fret, vote the "other" option and write-in the name of your distro. On Friday, we'll be going through our poll results, paying particular attention to the write-in votes, and will be putting up a new poll with between 10-20 of the distros that received the most votes in this weeks preliminary round. The final round will have no "other" option. The winning distro will be announced on Friday, January 15, and until next years "best distro" poll will be honored by having the distro's name displayed inside a laurel wreath on our home page, announcing the distro as the recipient of the FOSS Force Best Linux Distro Award for 2015.
To make it more interesting, we've added another new change this year: During the opening round those of you who don't use GNU/Linux will be able to vote for your operating system of choice too — even those of you who use Windows.
The time has come for you to start casting your votes, and it's also the time for you to get on the stick and start urging other people who share your enthusiasm for your favorite distro to cast their votes too. We encourage you to engage with our other readers in the comments section below to make the case for your distro. We also encourage you to remember to keep it fun and maintain the spirit of friendly competition.
Finally, don't forget to share.
After you're done casting your vote, be sure to click on the Facebook and Twitter buttons at the bottom of the poll, so that your friends and followers can find out about the poll and also vote.
A little bit of friendly competition will be good for us all. Go out there and see if you can earn some bragging rights for your distro. And remember, even if your distro doesn't win, it's okay because it's all Linux.
Sometime this week, FOSS Force will be going live with the second phase of our Indiegogo fundraising campaign. You can help us get a running start by making a donation now by becoming a subscriber.