SCALE 14X Thursday
One of the drawbacks of having to work a show like SCALE is that I don't get to go to enough sessions while I'm here. As the traffic cop at the intersection of old and new media, it's my job to marshal the publicity team's forces into taking the information happening at the show and then processing it for the wider public consumption.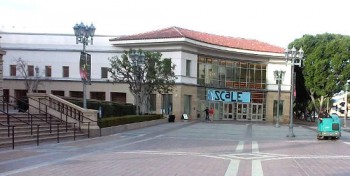 That said — and fighting off rumors Thursday morning that, yes, I am the one to introduce Mark Shuttleworth at the UbuCon keynote that starts the entire UbuCon and SCALE 14X on Thursday (not to worry, I didn't) — SCALE 14X Thursday kicked off a new era in the conference; specifically one where it become a major player in the FOSS expo constellation, and perhaps the biggest independent show in North America.
Shuttleworth's keynote kicked off a busier-than-expected day at SCALE 14X. Sessions on Thursday throughout UbuCon and the rest of SCALE 14X seemed to have more than adequate attendance, especially in the larger rooms at the Pasadena Convention Center. In fact, the Chef Training was standing room only, and some of the attendees had to be turned away.
One of the great things about working a show like this is that you get to see a lot of people who, invariably, you get to see every few months or so if you're caught in the Deadhead-like, road-goes-on-forever-and-the-party-never-ends cycle of attending Linux and FOSS events. There were many folks to catch up with in the crowd of SCALE 14X attendees that are always speaking or organizing or reporting on or even just attending the events.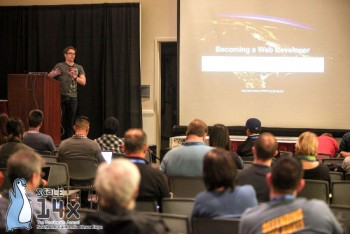 One such person, who spent his afternoon speaking in a session about Web development, is Joshua Simmons of O'Reilly Media. Joshua, who despite his age is a FOSS expo veteran, knocked it out of the park on Thursday, giving a detailed presentation on becoming a Web developer, and it was one that was as informative as it was thought-provoking. It's one that I hope he takes on the road and we see at other Linux/FOSS events through 2016.
LOOKING AHEAD TO FRIDAY: Today, SCALE 14X shifts into another gear, with the opening keynote of Cory Doctorow at 9 a.m. Doctorow, a celebrated science-fiction writer and digital freedom warrior, will be talking about "No Matter Who's Winning the War on General Purpose Computing, You're Losing." Day two of UbuCon and the PostgreSQL Days continues, as well as the introduction of the SCALE 14X Legal Track — with open source becoming so prevalent in society, lawyers need to keep up with trends and SCALE is there to help.
The exhibit hall — 143 vendors all ready to display their wares — will open at 2, and the evening winds down with UpSCALE Talks — rebranded Ignite talks where speakers have preset slides at 20-second intervals and speakers have five minutes to keep up — and Bad Voltage Live wraps things up with its ribald live performance.
More to follow tomorrow. Watch this space.
We're currently in the midst of our 2016 Indiegogo fundraising drive. Your support is crucial. Won't you please visit our fundraising page and make a contribution to support FOSS Force?