Breaking News
Last updated Tuesday, February 16 at 12:15 a.m.
If you've been trying to get on LXer and having no luck, it's not just you. Today the site is unreachable for at least much of the U.S.
The popular Linux and FOSS website LXer seems to be unreachable in many parts of the U.S. today. In the areas affected, users trying to reach the site are taken to a Network Solutions holding page instead.
We first became aware of the problem at about 7 a.m. EST when an attempt to access the site took us to a Network Solutions landing page. We had visited the site several times in the previous hour without difficulty. At about 8 a.m., access to the site returned briefly, but by 9 a.m. the site was again unreachable. We haven't been able to access the site since.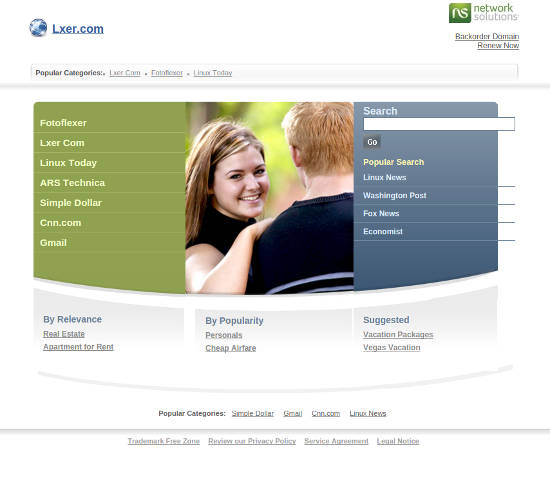 So far we've been unable to determine whether this is a total outage or whether the outage is sporadic and regionally based. We've heard that the site is reachable in Southern Maryland, and another source tells us that the site is reachable in his area, but failed to provide us with a location. We've heard from people in Southeast Texas, Idaho, Ohio and Arizona, all of whom say they are reaching the Network Solutions landing page.
We're not sure about the Network Solutions connection. The company's primarily businesses are domain name registration and web hosting. However, the company is not listed as LXer's registrar. We don't know if the site uses the company as its host. Network Solutions has taken controversial actions against sites and site owners in the past.
At first we believed that the outage was likely a localized DNS issue. However, as it begins to become apparent that the outage is more widespread than first believed, other possibilities such as server issues become more likely. However, FOSS Force is seeing a very small amount of referral traffic from the site — a fraction of what would be normal — and the FOSS Force News Wire is still receiving updated content from LXer's RSS feed.
There has been speculation that the event could be tied to a widespread Comcast outage that happened this morning, but that seems unlikely for a couple of reasons. The Comcast outage is reported to have begun at 8 a.m. PST. However, we know that LXer's problems started as early as 7 a.m. EST, or four hours earlier. Also, outage maps of the Comcast meltdown don't seem to match the information we're getting about LXer's availability, although that might be misleading.
We have attempted to contact the publishers of the site, but our email has not yet been returned.
**********
Update: At 5:25 p.m. EST we heard from FOSS Force's Larry Cafiero, who said that he is being taken to the Network Solutions landing page when attempting to access the site. At about 6 p.m. we received a tweet from Matt Hartley who tells us that he's having no trouble accessing LXer using OpenDNS, which harkened back to our original thought that this might be a DNS issue. However, after reconfiguring a Linux Mint machine to run OpenDNS, verifying that it was working and clearing all of our browser caches we're still being taken to the Network Solutions landing page.
**********
We've heard this from Robert Whitinger with LXer, who told us this: "There does seem to be something going on with DNS today. I'm working to see if I can pinpoint what's happening. Some ISP dns servers are throwing up errors. A large portion of the errors appear to relate to IPV6 even though we are not supporting IPV6 at this time."
We have also been informed from another source of what looks to be a possible propagation issue, which we have so far been unable to confirm.
The good news, however, is that we now know that the good folks at LXer are aware of the problem and are working to fix it. We will continue to watch the situation and will publish updates as necessary.
**********
As of 12:00 a.m. Tuesday, February 16, 2016, LXer is available again online, or at least it is at the FOSS Force office. We will assume that this means that if LXer still isn't available where you live, it will be shortly. If we hear differently, we'll let you know.
Oh, and welcome back LXer! It's good to see you back where we can reach you.