Will Canonical's outside the box thinking redefine the mobile experience?
We're finally going to see what Canonical can do with mobile. There's good reason to be cautiously optimistic, as there are at least three potential game changers for the mobile world in the new Aquaris M10 Ubuntu Edition tablet due to be released in March.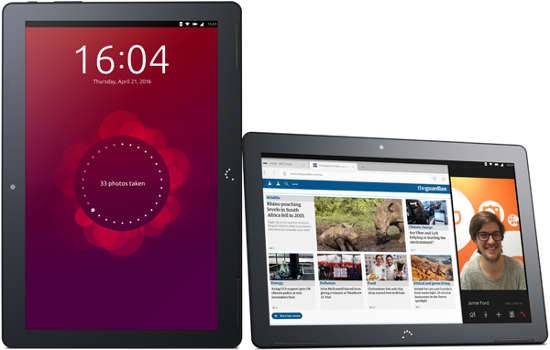 The BQ Ubuntu phone, the first of which was released about a year ago, has turned out to be only a tease of what is to come, especially here in the U.S. where the phone has been mostly a no show and not available for purchase. Even after it became available in the U.S., the device is a mostly a brick, offering only 2G connectivity and then only on certain carriers. But at least those who have one can walk around with GNU/Linux in their pocket — even if it's only useful at home, McDonalds, Starbucks or someplace else with Wi-Fi.
GNU/Linux, of course, is the most obvious difference between Ubuntu's mobile offerings, phone or tablet, and those from the usual suspects. The upcoming tablet, however, has a big feature that's been MIA from the phones so far, and depending on how well it's implemented and how savvy the marketing folks are, it could completely change the mobile market.
The feature is something Canonical is referring to as "convergence" — all lower case and without any noticeable trademark hype — which pretty much offers exactly what was promised in 2013's failed attempt to raise $32 million to produce a prototype phone, Ubuntu Edge. At first glance, a mobile device with convergence has all appearances of a typical mobile device, or as typical as a device not running Android or iOS can be, with a pretty standard touch friendly mobile interface.
There's one big difference, however. The interface automatically switches to a full featured desktop — in this case Unity — when coupled with a Bluetooth mouse and keyboard. Add a monitor, and voilà!, the tablet is suddenly a fully functioning desktop, ready to run any desktop app, say LibreOffice so the user can write a letter, work on that novel, or get some work done on a spreadsheet that the boss is insisting needs to be finished yesterday.
Aquaris M10 Ubuntu Edition Specs
10.1 inch touchscreen

MediaTek quad-core MT8163A 1.5GHz processor

2GB RAM

16GB internal storage

MicroSD slot (64GB maximum)

8-megapixel camera (autofocus and dual flash)

1080p video

Front speakers

Micro HDMI port

Dimensions: 246X171X8.2mm
This has the potential to grab a big slice of the mobile pie. With this tablet, casual users would no longer need to invest in multiple computing platforms because their mobile device can do it all — and it'll do so by acting like a tablet when they need a tablet and like a desktop when that's what's required. It's the ultimate convertable, and if Canonical implements and markets this right, convergence technology might very well be the norm for all mobile devices going forward.
Debuting the convergence feature on a tablet instead of a phone is probably a good marketing strategy. Not only does a tablet not need to be compatible with a plethora of wireless providers' systems, making inventory less of a problem, it can also be marketed on several tracks, as it can be sold as a stand-alone tablet or bundled with keyboard, mouse and case as a "convertable," not unlike Microsoft's Surface — only better.
The trouble is that apps for Ubuntu mobile devices are few and far between — a fact that you can be sure both Google and Apple are sure to exploit with some "where's the beef" FUD. According to the smart money guys and gals on Wall Street, having a healthy app ecosystem already in place is essential to the successful launch of any new mobile operating system.
This thinking goes back to the day Apple introduced the iPhone and sales took off, contrary to Wall Street's predictions. Its fabulous success was attributed to the availability of apps, which transformed the device from being merely a better and more powerful version of Blackberry to being a Star Trek-esque portable computing device that could do practically anything.
When Google first introduced Android, marketing experts predicted its doom because it didn't come complete with 100,000 or more apps, which was seen as essential to compete with Apple. In Google's case, it was "build it and they will come," but no attempts to launch an alternative mobile operating system since have been able to duplicate that, not even Mozilla with Firefox OS, which attempted to make designing native apps almost as easy as learning HTML.
With Google and Apple having a stranglehold on mobile, app developers aren't going to go through the expense of porting an app to a new operating system that doesn't have a sizable user base and probably never will. If you don't believe me, ask Microsoft. They'll explain it to you. And while it's true that any operating system can be made to run Android apps non-natively, that's never worked in the past, which is why Microsoft gave up on the idea almost before implementing it.
To its credit, Canonical's done some out of the box thinking and has come up with a novel workaround which might even be a selling point, especially on tablets, where the larger screen size, coupled with the fact that the tablet is usually used in the home, makes mobile apps not nearly as necessary.
Essentially, they're saying, "We don't need apps." They've come up with "scopes," another lower case and not trademarked idea offered without hype. Scopes are basically dashboards on the mobile home-screen that display related content from different providers on the same screen. In one example I've seen, a music scope seamlessly offers music from online services alongside music stored locally on the device.
According to an article published on OMG! Ubuntu in January, 2015, BQ's Ubuntu phones came with at least six scopes out-of-the-box when first released: Today (with weather, favorite contacts, current calendar appointments and the like), Nearby (with information from sources such as Yelp and TimeOut, making it easy to find something that's…well, nearby), News (from a variety of sources), Music, Photo (with images culled from Facebook, Instagram, Flickr, and presumably, local storage), and Video.
"We're producing an experience where content and services come directly to the screen in an unfragmented way," is how Canonical's vice president of mobile, Cristain Parrino, explained it. "It makes for a much richer and faster user experience."
Scopes still require development from content providers, but are much easier and less time consuming to develop than Android or iOS apps, making it easier for Ubuntu to get providers on board. Ubuntu marketers might also add that they're a "value add" that the other mobile operating systems lack.
"Scopes can be developed for a fraction of the cost of a traditional app," Parrino has said. "They also have the benefit of being integrated to the phone's core experience."
None of this matters, of course, unless Canonical can spark consumer interest, and entering the market with a mobile device that's not powered by Android or iOS is just about exactly as easy as making 2016 the year of the GNU/Linux desktop. It can be done, however. One only has to look to Google, which upset one apple cart with Android and another with its Chromebook.
Time will tell if the launch of the Aquaris M10 Ubuntu Edition tablet will turn out to be a momentous occasion or just another soon to be forgotten event. I'm hoping that March will be a month that'll go down in mobile history. I'm rooting for a "Go, Linux, go. Go, go, go" sort of moment.
We're currently in the midst of our 2016 Indiegogo fundraising drive. Your support is crucial. Won't you please visit our fundraising page and make a contribution to support FOSS Force?
Christine Hall has been a journalist since 1971. In 2001, she began writing a weekly consumer computer column and started covering Linux and FOSS in 2002 after making the switch to GNU/Linux. Follow her on Twitter: @BrideOfLinux