Last updated on February 1, 2016
The Heart of Linux
I've mentioned often on these pages and others that, as a rule, us older folks tend to have severe allergic reactions to technology and tech devices. I believe I've successfully made my case, just by talking about the folks in my own neighborhood retirement community.
I am the anomaly. I'm an "old guy" who gets tech. Mostly anyway. Just don't lean too heavily for my networking skills or you'll fall down, busting your butt and getting nasty paper cuts from all of those antiquated certs. And sure, we can tick off names here of the folks who know what both an IDE and Gertitol are, but mostly we older people resemble "The Walking Dead" as we wander around Fry's Electronics or Best Buy.
Best Buy, of course, is the place where many of us older people go to seek help in what it is we need in a computer. The sales reps there can be so nice. What they suggest is almost always twice the cost of what we really need, but hey, the Best Buy geek said this is the one to buy. Sales bonus for an extended warranty plan anyone?
But just about the time you peg one of us in the senior set as a lost cause, the next phone call you get can be a surprise….
Jane and her husband Claude live across the street from us. Both in their mid to late 70s, I've made a few "service calls" to their home. They are now both running Linux Mint on their "his and hers" computers, but the "hers" machine is dual booting with Windows 7. Jane doesn't boot into her Windows partition often these days, but every now and then there is a reason to do so. Yesterday was one of those do so times.
With tax forms and paperwork spread out, Jane began her annual ritual of telling the IRS to go to He…telling the IRS that they are not required to file again this year. Normally you don't have to file that paperwork annually but Claude has some retirement income that isn't taxable which has to be explained on an annual basis. While she was trying to get that task done, she began to get pop-ups, allegedly from Microsoft, telling her that she needed to upgrade to Windows 10 as soon as possible. Jane X'ed out of the first popup and went back to work, but in less than 10 minutes she was having to fend off another dire warning that Windows 7 was not as secure as Windows 10 and she needed to upgrade ASAP.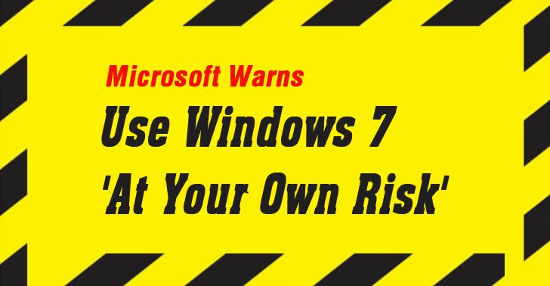 In previous visits to Claude and Jane's house I had cautioned both of them that if the messages they got for any reason seemed to be pushy or if those messages are telling you that you are in danger of infection, that is more than likely malware designed to get you to click a link. Evidently, Jane had listened. Since the "Upgrade to Windows 10" was a clickable link, she stopped what she was doing and signed out of Windows and booted back into Linux. From those friendly confines she began to do a bit of research as to what malware might be threatening her.
Turns out, she discovered that malware was Windows 10.
She called me to see if I was busy and would I come over and take a look at this for her. She wanted to make sure she was going to be safe in Windows — or as safe as anyone can be in Windows anyway.
Jane had taken it on herself to see what this was all about and in that look around the internet she found what she suspected to be true. Microsoft Windows it seems, is in the business of trying to scare old ladies or anyone else who doesn't really feel comfortable in a technology environment. When I was able to get over there, she showed me what she had found.
What had been a growing state of apprehension turned in to full-on case of pissed off. But according to Chris Capossela, the chief marketing officer at Microsoft, I had no reason to be angry. After all, the software giant and convicted monopolist is only looking out for our best interests and online safety. Here…don't take it from me. Here's what Mr. Capossela is worried about:
"We do worry when people are running an operating system that's 10 years old that the next printer they buy isn't going to work well, or they buy a new game, they buy Fallout 4, a very popular game, and it doesn't work on a bunch of older machines.

"And so, as we are pushing our ISV [Independent Software Vendor] and hardware partners to build great new stuff that takes advantage of Windows 10 that obviously makes the old stuff really bad and not to mention viruses and security problems."
Really?
So you're admitting that Windows 7 is a virus magnet? Funny thing…you didn't mention that when you were marketing Windows 7 as your latest release. And what's this about games not working and possible new hardware being unusable on Windows 7 PCs? Isn't Windows 7 supported until the year 2020? Aren't hardware manufacturers going to support Win7 machines until they are officially unsupported by Microsoft? That's the way it was with Windows XP.
Oh, wait. Aha! Now it makes sense. You are worried about Windows 7 becoming the new Windows XP. You think that people are so comfortable with Win7 that they will put off upgrading until the last possible minute, huh? Oh, and there's that pesky little prediction that there will be a billion Windows 10 installations by the year 2017….
So, while Microsoft falls just short of being the bully they were just a few years ago, the language used on these incessant popups are nothing but bullying scare tactics. How does our old buddy Mr. Capossela justify that?
"We think every machine that is capable of running Windows 10 we should be doing everything we possibly can to get people to move to Windows 10…. We are going to try to find that right balance, but we just know there're many people out there who constantly kick the can down the street without a little bit more of a, frankly, push.

"And so, there's no doubt with a base as big as ours, it is hard to move anyone to a new model without angering some people. We don't want to anger anybody, but we do feel a responsibility to get people to a much better place, and Windows 10 is a much better place than Windows 7. We will always give you a way out, but we're trying to find the right balance."
"A bit more of a, frankly, push"?
Here's a push for you Mr. Capossela. Why don't you go talk with your boss for a while about these scare tactics. Why don't you mention nice old ladies like Jane Cline who wrung her hands over this until some solid technical advice came her way.
As I've grown older, I've become just a bit wiser, but in cases like this pal, I'd love to be the guy who rubbed your nose in this tripe. Microsoft hasn't changed their stripes…they've just white-washed over them. But even that doesn't mask the fetid stink of your corrupt business practices.
It's all going to come back on you. I just hope I'm alive to watch it happen. Maybe I can do some little thing to facilitate it. That's a goal worth living for.
We're currently in the midst of our 2016 Indiegogo fundraising drive. Your support is crucial. Won't you please visit our fundraising page and make a contribution to support FOSS Force?
Ken Starks is the founder of the Helios Project and Reglue, which for 20 years provided refurbished older computers running Linux to disadvantaged school kids, as well as providing digital help for senior citizens, in the Austin, Texas area. He was a columnist for FOSS Force from 2013-2016, and remains part of our family. Follow him on Twitter: @Reglue