In 2006, Oracle began trying to abscond with RHEL's paying user base. On Thursday, Microsoft announced that it's now going to give Oracle a similar treatment. What's that they say about paybacks?
Microsoft has declared war on Oracle, which is the type of story I wish was on Netflix. If it were, I'd make some popcorn, mix it with some M&Ms, sit back and binge watch. As it is, I'll have to watch it unfold the old fashioned way, as it happens.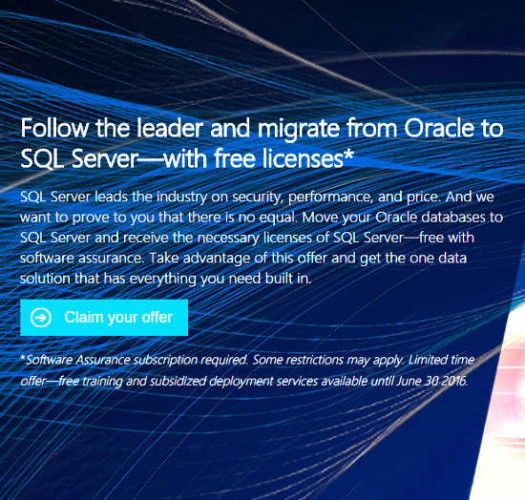 Some of you might remember the hostilities which broke out between Red Hat and Oracle after Red Hat acquired JBoss. Until then, the two companies had worked hand in hand in something of a partnership which saw Red Hat helping its customers get Oracle's business stack up and running on RHEL servers. According to news reports of the day, Oracle's head honcho, Larry Ellison, thought he had Red Hat in his back pocket and happily referred clients who were interested in migrating Oracle's stack to Linux from Unix or Windows to the Raleigh, N.C. based company.
That all changed after Red Hat announced on April 10, 2006 that they had acquired JBoss, which was the largest supplier of open source enterprise middleware. Again according to news reports of the day, this put Ellison into something of a snit for a couple or reasons.
In those days, Oracle was on a buying spree, using it's pocketbook, market share, and muscle if necessary, to gobble up every software company it could find with products that would add beef to its own offerings. Early in 2006, the company had attempted to purchase JBoss in order to better compete with BEA Systems and IBM in the middleware market, reportedly offering the Atlanta based company $400 million.
When just a few months later Red Hat announced it had purchased JBoss for an initial $350 million outlay, with up to $70 million to be paid at a later date, "subject to the achievement of certain future performance metrics," Ellison was livid. Not only was he upset at having his offer spurned in favor of one he perceived as no better and even inferior, he also saw this as a breach of the loyalty he expected from Red Hat — one of those "after all I've done for you" sort of things. By acquiring JBoss, he thought, his back pocket partner was attempting an end run that would put it in direct competition with Oracle.
Ellison decided to show Red Hat that two could play this game. In October he announced Unbreakable Linux, Oracle's own in-house Linux distribution, a direct clone of RHEL which would henceforth be the Linux distro of choice for running Oracle products on Linux. At first Oracle made no attempt to hide the fact that its Linux distro was a line-by-line copy of RHEL, while offering support contracts at a fraction of what Red Hat was charging. "Support" mostly meant that Oracle was supplying Red Hat's patches, as at the time Red Hat was making the application of patches easy.
To add insult to injury — or more precisely, injury to injury — Oracle also began actively attempting to woo Red Hat's clients by offering cheap support for RHEL with no need to migrate to Oracle's own brand of rebranded Linux. Again, the support they offered was mainly paid for by Red Hat, with Oracle merely applying Red Hat's patches, although Oracle claimed otherwise, and in fact, tried to make the case that its support was superior to that coming from Raleigh.
"We spend a lot of time finding and fixing bugs in Red Hat Linux," Ellison claimed, "and we have no problem with that — we do that with lots of operating systems. But sometimes when we fix a Red Hat Linux bug, Red Hat can take a very long time before making the fix. We'd fix the bug for our customers, and we'd send the bug off to Red Hat for them to fix, and sometimes the fix would be made very quickly but sometimes not."
This series of actions by Oracle created something of a brouhaha within FOSS circles. While it was true that Oracle didn't seem to be breaking any terms of the GPL, under which Linux is licensed, it was widely believed that Oracle wasn't obeying the spirit of the license. Unfortunately — or fortunately, depending on how you look at it — the law doesn't take into consideration the "spirit" of anything.
In 2011, the move by Oracle (along with a similar move by Novel) to poach RHEL subscribers, led Red Hat to change the way it distributed it's Linux kernel code by making it difficult for Oracle and Novel to determine which patches had been applied and where.
"We made the change, quite honestly, because we are absolutely making a set of steps that make it more difficult for competitors that wish to provide support services on top of Red Hat Enterprise Linux," Brian Stevens, who was then Red Hat's chief technology officer, told The Register. "Today, there are two competitors that I'm aware of that go to our customers directly, offering to support RHEL directly for them…Oracle and Novell."
This might have been a necessary move by Red Hat, but it put the company in hot water with the FOSS community, where many thought that Red Hat, like Oracle, was now violating the spirit of the GPL. It was also seen by some as a move targeted at another RHEL clone, CentOS, a notion which Red Had immediately attempted to dispel.
"We haven't at all restricted CentOS's ability to grab source code and recompile it and clean-out trademarks and package it." Stevens told The Register. "It's just some of the knowledge of the insides that we're hiding,"
CentOS agreed with that assessment. When asked, the distro's co-founder Russ Herrold said, "I'll not lose sleep on the matter."
For the last five years or so, there's been something of an unwritten truce between Oracle and Red Hat. Although Oracle continues to market its own brand of Linux, which remains pretty much a RHEL clone, the company no longer seems to be aggressively chasing existing Red Hat customers. However, it's a pretty good bet that when an Oracle customer begins to make noises about migrating from Unix or Windows to Linux that every effort is made to lead the customer to Oracle Linux. In 2013, Oracle told Forbes that it had over 11,000 customers running Oracle Linux on "non-Oracle hardware."
Flash forward to March, 2016 and it's payback time, not-so-instant karma time or what-comes-around-goes-around time — pick your own descriptor. It seems that Microsoft has taken a page from Oracle's playbook and now intends to do to Oracle what Oracle tried to do to Red Hat all those years ago.
On Thursday at a Data Driven tech event in New York City, Microsoft said that Oracle customers who migrate to SQL Server 2016 will get free licensing for the lifetime of the product, as well as free technical support. The only requirements for companies wanting to take advantage of the offer is that they be Software Assurance customers at the time they apply for the freebie. They also must act quickly and sign up by June 30 in order to obtain full benefits, such as getting Redmond's technical support staff on premises to help with the migration and to train staff. However, don't be surprised if the deadline isn't extended if the project starts to get serious traction.
As part of the PR around this offer, Microsoft is claiming it can create a database system for about 10 percent of what a comparable system would cost from Oracle. From what I know about Oracle's pricing, this should be easy, even for Microsoft. Microsoft also hints that SQL Server is more secure than offerings from Oracle, which is also probably true given Oracle's horrendous security track record.
This was the second big announcement made about SQL Server last week. On Monday, Scott Guthrie, the executive vice president of Microsoft's cloud and enterprise group, announced that the new SQL Server will be the first to be ported to Linux, so obviously Redmond sees it as a big part of its future.
Given Microsoft's recent history, the porting of enterprise crown jewels to Linux wasn't entirely unexpected. However, declaring war on Oracle is a complete surprise. The question now is, how will Oracle retaliate. If I know anything about Larry Ellison, it's that he's not about to take this lying down. As I said at the beginning, it's time for popcorn and M&Ms. Come to think of it, Netflix probably wouldn't be able to do this story justice, with or without HD. I want to see this on IMAX.
Christine Hall has been a journalist since 1971. In 2001, she began writing a weekly consumer computer column and started covering Linux and FOSS in 2002 after making the switch to GNU/Linux. Follow her on Twitter: @BrideOfLinux