The Heart of Linux
Is disk partitioning a stumbling block to the new user installing Linux for the first time?
I remember it clearly. Well, as clearly as my teen-year chemically fueled indiscretions will allow. It was directly after the 2.27 kernel was released. Almost overnight, it went from "wireless sucks in Linux" to "holy crap, wireless works in Linux." Yeah, there are still holdouts — I don't want to mention any names but their first initial is Broadcom — and they still suck.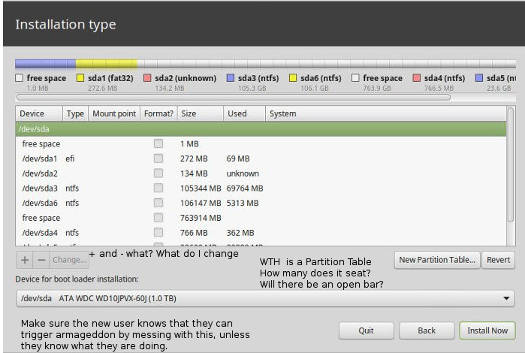 Desktop Linux has made some amazing strides in the past decade. Heck, it's made huge strides in the past two years.
However, for those of us who use and advocate the use of desktop Linux to new users, there's a but. A big ol' in-your-face-can't-sweep-it-under-the-rug "but." Regardless of how smoothly your explanation of installing and using desktop Linux goes, that big ol' but steps in your way. That pesky, clumsy pause as you try to figure out how to tell a new user how to partition a drive.
Most distros get it right…right? They've made the new system-wide hard drive installation pretty easy. Click on the check mark box that says to use the entire drive. Right?
Wrong. El-wrong-O-Roony. Wrongness to the Nth-ness.
The last time I looked (maybe 40 minutes ago) when you click that check mark via a Mint install, it will dutifully inform you that there is not a swap partition configured. it further informs you that not having a properly configured swap partition can possibly launch your planet into a collision course with a quasar.
"Do you want to go back and configure a swap partition?"
Cue the befuddled new Linux desktop user beginning to form slobber at the corners of their mouth. Houston, we have a problem.
Yeah, that whole partitioning thing. That courageous click of the mouse that will either release the Fires of hell upon your present hard drive and all the important files therein, or it will do the right thing and life continues to be good. And you feel good…you did the right thing. However it was by never-again-to-happen sheer blind luck, and you as the new Linux desktop user know it. You didn't dodge a bullet, you ducked a burst of 30mm fire from the strafing run of a Thunderbolt A-10 Warthog.
We seriously need to fix this and I have an idea that might at least get us started in that direction. Without a doubt, some of you will mention that this whole getting the partition thing right is a rite of passage, so to speak. A learning experience we all need to go through….
No, it's not. It's an extremely good way to scare a potential new user off, never to return. With the tiny bit of knowledge about this engaged, I just need you smart folks to set that marble in motion. You smart folks, the 99.9 percent of you next to me, are the people that can make this happen. I simply want your ideas as to how it might work or what would be the stumbling blocks along the way.
There are a number of scenarios by which the new Linux user would approach their installation. One would be to completely blow away their Windows partition and install Linux on a newly-formatted hard drive. As much as I enjoy seeing that happen, chances are, the new user will want to keep his or her training wheels on for a while longer. This is where it gets messy. And before I forget, I found an absolutely fantastic article on the matter, written by Bran Maupin. It addresses, in excellent order, the BS with which Microsoft has mired us down. Of course, said Microsoft-placed tar pit is the always-popular inclusion of UEFI. Let's all give them a hand, shall we. Bran also points us to a concise, easy to follow step-by-step article that most all of us might want to include in their bookmarks.
Back to the issue at hand, let's take a look at what the new Linux user sees, when they proceed with the seeming ease of installing Linux on their computer (cue screeching brakes sound here). As Bran mentions in his article, Windows 10 seems to have an inordinate number of partitions that serve no real purpose, to the new user at least. Now, the new user is asked to partition their hard drive to accommodate their new Linux install.
Really? If Van Gogh had seen this, he would have gouged out an eye as well. First things first. Let's find a place in this working process to explain what a partition is. And just what is a "new partition table? How is a new Linux user supposed to know WTH that even means or what they are supposed to do with it?
Explain to them, in real installation time, that a partition is a segment of their hard drive and each segment holds part of their operating system. They should know that a new segment needs to be created in order to place the new operating system. And where in the wide world of sports does it tell the new user what "format" the new segment is supposed to be. Ext3? FAT32? Where is the guidance on that?
And further, before they get blind-sided with it, explain why and how they should create a swap segment. To my eyes, this could be done right inline with that dialog box, and it should only entail a couple of new graphics and possibly a mouse-over link that gives the instructions or explanations as to how to create a swap partition.
Keep in mind that the user is apprehensive to begin with and it's not going to take much for them to close up that box and walk away, all the time repeating in their heads, "Linux sucks, Linux sucks, Linux sucks…."
Some of you will argue that the exiting user should not allow the door to hit them on the way out. I have sat beside dozens of new Linux users for over a decade, watching them agonize over the choices they have while partitioning their dual boot system. Of course, I would never allow them to hose their systems but I have physically watched the look on their faces as they decide that it's just too much of a risk, trying to install Linux on their Windows system.
So yeah, once again I am advocating that we take a fresh look at how a new user sees their Linux experience and how we can keep their collective butts in their seats long enough to see this through. And once again, I am looking to you to offer your suggestions as to how best accomplish this. You guys are the brains. I'm just the traffic cop here. Should you have ideas as to how you might change the GUI for the better and don't know how to accomplish this in GIMP, email me, ken@reglue.org and I will help you get it done.
And now, this is why you folks are the 99.9 percent of people smarter than me.
I was in a panic. Google sent me an email, telling me that there was a new device that had accessed my email account and it was a Windows device. Sweat began to accumulate on my slick pate as I tried to figure out where I had used a Windows machine to access my Gmail.
As the minutes passed, I became more and more agitated…worried and even a tad put out with myself as to why I had not yet set up the dual authentication system I should have already put into place. With that done, I quietly hoped to the universe that whomever had accessed my system had not gained access to many of the documents on my Google Drive…documents that contained information about our Reglue kids and specific information about them.
Days passed into weeks and I was content that I had, possibly anyway, blocked a hacker's attempts.
And then it happened again.
I furiously went from account to account, changing passwords into impossibly complex passwords, and triple checking to see just how much damage, if any; had been done. I was in my fouth hour when it hit me. I finally figured out who was hacking me and how they were doing it.
It was me.
While at work, I had used a mostly unused Opera browser and that browser spoofed a Windows 7 operating system. So yeah…I think I have that right. A 99.9 percent intelligence rating over me, every one of you.
It's a wonder they will still sell me razor blades.
Ken Starks is the founder of the Helios Project and Reglue, which for 20 years provided refurbished older computers running Linux to disadvantaged school kids, as well as providing digital help for senior citizens, in the Austin, Texas area. He was a columnist for FOSS Force from 2013-2016, and remains part of our family. Follow him on Twitter: @Reglue