The new owners of SourceForge, once the primary code repository for open source projects, work to make good on a promise to restore a reputation that was tarnished by its former owners.
It's been about 2 1/2 years since GIMP began what became something of a mass exodus of large open source projects away from SourceForge, which at one time had been the go-to code repository for open source projects.
The site's reputation began to wane almost immediately after it was purchased from Geeknet in September, 2012, by Dice Holdings in a deal that included Slashdot and Freecode/Freshmeat. In July, 2013, Dice introduced DevShare, an optional profit sharing feature that included closed-source ad-supported content in the binary Windows installers and gave projects agreeing to use the feature a portion of the revenue.
Predictably, the move was not met with open arms by FOSS supporters, and four months later the developers of the photo manipulation program GIMP left the service. In announcing the move, GIMP said its decision was based on the DevShare program as well as deceptive and confusing "download here" advertisements that tricked some users into thinking the ads were, in fact, the place to select a project's download. Much later, in 2015, GIMP complained that the site was hosting infected versions of its Windows binaries on SourceForge's Open Source Mirror directory.
GIMP's exodus was followed by other notable projects, including Nmap and Videolabs, the later being the developer of the VLC media player which had once been SourceForge's most downloaded project.
But, as the song says, that was then, this is now.
In January, Dice sold SourceForge, Slashdot and Freecode to BIZX, LLC and the new owners began making moves almost immediately to regain the public's trust and to return relevancy to the site. On February 10, only thirteen days after the purchase, it was announced that the DevShare program had been ended as a "first order of business" by the new owners. Three months later, on May 17, it was announced that the malware issue brought up by GIMP a year earlier was being dealt with by implementing malware scans in partnership with security firms Bitdefender and ESET.
The new management has also been adding useful new features to the site, beginning with the introduction of Speed Test, an HTML 5 based application that supplies users with information about their Internet connections without the use of Java or Flash.
On Friday, SourceForge's Logan Abbott told FOSS Force the site has also been diligently working to remove deceptive ads and has impremented a tool that can be used by users to report ads they think are deceptive.
"Our deceptive ad reporting tool is live," he said. "It allows users to report any ad they feel is deceptive or bad by clicking on the 'Report a problem with ad content' that appears under every ad on the site."
He further stated that his team has been working on getting rid of deceptive ads for some time. "We have a full time team member dedicated to eliminating these [deceptive ads] and the vast majority were already eliminated. This tool is just an extra safeguard for ads that sneak in through ad networks."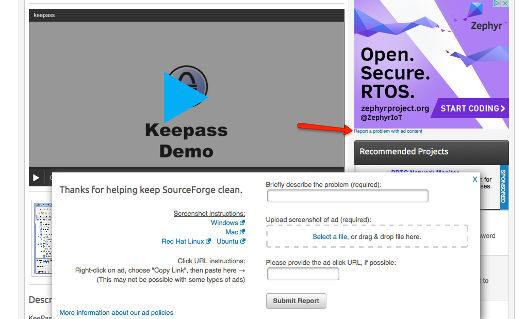 The new owners have also made it easier for projects on GitHub to utilize the site as an additional resource. "We have a GitHub importer tool that will import projects from GitHub to SourceForge for developers who want an extra distribution channel," Abbott explained. "It will also sync new releases that are uploaded to GitHub over to SourceForge so your project is up to date."
The importing tool comes with directions both for importing to a new SourceForge project or for importing to an existing project, and includes a video tutorial on its use.
It appears that the folks at SourceForge Media, the subsidiary of BIZX that runs the site, are determined to do everything they can to turn SourceForge around. Although times have changed since the days when the site was the preeminent open source code repository, I suspect it will find its footing as a viable alternative and again become a valuable resource for developers.
Christine Hall has been a journalist since 1971. In 2001, she began writing a weekly consumer computer column and started covering Linux and FOSS in 2002 after making the switch to GNU/Linux. Follow her on Twitter: @BrideOfLinux