Our resident Linux newbie is off and running. Not only is he single booting his Lenovo IdeaPad to Ubuntu Mate, he's using the FOSS app "MultiSystem" as a down and dirty way to check out lite distros for his ancient resource challenged Sony Vaio. We couldn't be prouder.
The Linux Gadabout
Running Ubuntu MATE for the past week, my Lenovo IdeaPad Yoga 13 has so far been a dream — perhaps too much of a dream, because it's allowed me to waste even more time playing Sid Meier's Civilization: Beyond Earth without interruption than Windows 10 ever could. But on my significantly more ancient and RAM limited Sony Vaio, Ubuntu MATE seems to be more of a resource hog than I'd like. Sure, it still runs better than the Windows XP that came pre-installed, but it doesn't mean we can't do better.
Per FOSS Force reader suggestions, options I might expect to run more smoothly than Ubuntu MATE on my Sony Vaio include:
And these are just the tip of the iceberg! But here are the most convincing arguments so far.
Juan:
"Xfce will run slightly better than MATE, but not that much on so little RAM. Fluxbox-based distros do better on low resources machines; maybe Enlightenment also could work."
Gary:
"I've been running MX-15 on several old netbooks with 1 GB and a first gen Intel Atom. That distro has outperformed everything else I have tried by a large margin including Mate, Xubuntu, and several LXDE variants."
Don Nadie:
"I also think Ubuntu MATE is too heavy for your old Vaio. Back up your hard drive and start trying light distros especially made for old hardware. I had amazing results with Puppy Linux Trusty on an 1996 HP notebook with a Pentium II 333 MHz and 256 MB of RAM. It ran great because the entire OS fit into memory and didn't have to access the hard drive to fetch any part of Linux."
But here was an interesting suggestion from RandyNose I'd almost missed — one that might allow me to easily try all of the above and more with as little fuss as possible:
"Install MultiSystem, and use a 8 or 16 gig drive (USB 3.0 preferred even if your system can't use it; I find they tend to be faster due to disk speed) to put multiple distros on. And yes, I left it in French. LOL. Just for the fun of it.
## Ajoutez le Depôt de MultiSystem
sudo apt-add-repository 'deb http://liveusb.info/multisystem/depot all main'

## Ajoutez la clé publique
wget -q -O – http://liveusb.info/multisystem/depot/multisystem.asc | sudo apt-key add –

## Rechargez les sources
sudo apt-get update

## Installez MultiSystem
sudo apt-get install multisystem
"Or view it on the MultiSystem page:
http://liveusb.info/dotclear/index.php?pages/install
"But don't translate the page and use the commands — it won't work. Translate it to see what it is they're saying, and then un-translate to copy the commands into a terminal."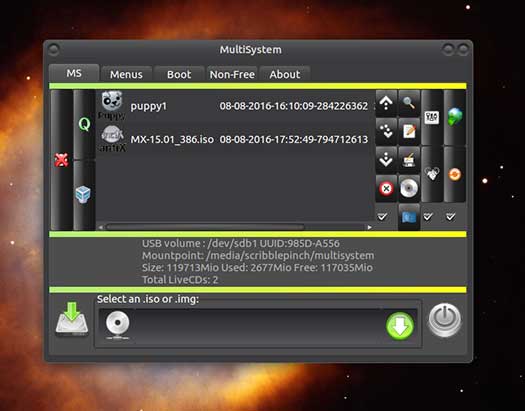 If your French — like mine — is très crappy and an English rundown for installing MultiSystem (and what to do with it once you've done so) is a little more helpful, this one from Linuxmen fit the bill for me. It's quite possible you'll get the gist of it by the interface alone because it seems like it might be pretty intuitive for experienced users (e.g., people who aren't me). But if you get hung up, drop me a line below and I'll try to walk you through it, because my shoes have already been there.
Remembering that my biggest hindrance in getting Ubuntu MATE onto my Sony Vaio in the first place was a lack of USB booting options in its BIOS, I was pleased to see MultiSystem's interface allowed me to install Plop Boot Manager via its non-free menu. (It's technically donationware, but I didn't get any nagging prompts to remind me of this fact.)
Thus far I've given MultiSystem a successful — albeit brief — spin with Puppy Linux on my Sony Vaio to make sure it works. I'll report my findings with this and some of the other suggestions for Ubuntu MATE alternatives next time around. If anyone has recommendations for other distros that might run well on a machine that's just over a decade old, let me know below; I'm open to trying anything once!
"Bob" Fogarty was the editor-in-chief at Chris Pirillo's LockerGnome.com for nearly 12 years, and has written for ReadWrite.com and TheArtofCharm.com. He lives in San Diego with his wife and a medium-sized menagerie of beasties great and small. Follow him on Twitter: @Fogarty