Those using Linux to register for a Linux Foundation webinar are told to try using Windows or OS X instead.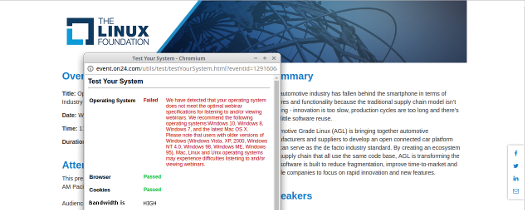 Excuse me if I have a little fun at the Linux Foundation's expense.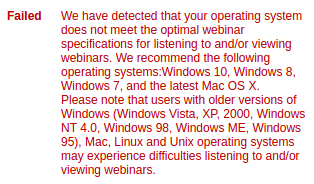 This morning while perusing the day's tech news, I ran across an article on Linux.com about a free webinar, "Open Source Automotive: How Shared Development Will Drive the Industry Forward," being hosted on Wednesday by the Linux Foundation. This sounded like something I wouldn't mind spending an hour watching, so I registered. Afterwards, I clicked a "Test Your System" link, just to make sure that I'd have no problems using the good ol' FOSS Force machine.
The results were a big surprise, and hearkened back to the bad ol' days when open source and the rest of the world usually didn't work and play well together. Browser, cookies, bandwidth and "Flash Test Video" all passed with flying colors. What didn't pass? Our Linux Mint operating system.
"We have detected that your operating system does not meet the optimal webinar specifications for listening to and/or viewing webinars," the test automation said. "We recommend the following operating systems: Windows 10, Windows 8, Windows 7, and the latest Mac OS X."
For an online event being hosted by the Linux Foundation? Really? I understand that the foundation isn't very interested in desktop Linux, but…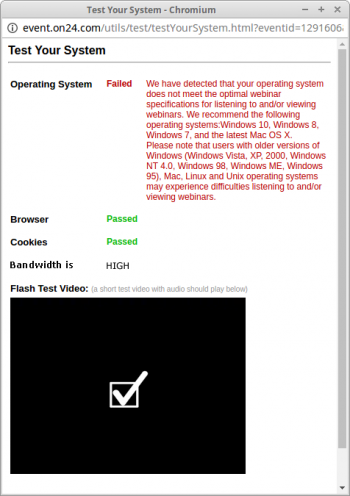 To be fair, the registration page isn't actually a part of the Linux Foundation's website, although it's designed to look and feel as if it is, complete with the foundation's logo. The site belongs to On24, the third party the foundation has engaged to take care of all the technicalities of putting on a successful webinar. Fair enough. But I would've thought that the organization that's in charge of making sure that Linus Torvalds can afford sweaters and beer would make sure that its third party helper would be Linux friendly.
"Please note that users with older versions of Windows (Windows Vista, XP, 2000, Windows NT 4.0, Windows 98, Windows ME, Windows 95), Mac, Linux and Unix operating systems may experience difficulties listening to and/or viewing webinars," the warning went on to say.
Well, at least there would be partial support for Linux.
I really wasn't worried. Both video and sound worked fine in the Flash test. It was still an "it figures" moment, however, to be told by the Linux Foundation, indirectly or not, that I'd be better off considering Windows or OS X. How embarrassing for them that must be, I thought.
It turned out that the good people at the foundation were aware of this issue, which I discovered a few minutes later when I received a thank-you-for-registering email from the foundation.
"Using Linux?" the email read right after the thanks. "Please note that the system test tool may incorrectly indicate that your system isn't supported. Don't worry, while not all Linux distro and browser combinations are supported, most are! Ubuntu with the latest version of the Firefox browser is a good choice for optimal webinar experience. Unfortunately, the webinar system test tool is due for an update and we hope our webinar provider will update the incorrect Linux messages soon."
One would hope, wouldn't one?
So, in the end, this is all much ado about nothing. But having the Linux Foundation tell me that Linux isn't supported and suggesting I move on up to Windows or Mac…well, that was a priceless Kodak moment.
Oh yeah, no one has Kodak moments anymore, do they?
Christine Hall has been a journalist since 1971. In 2001, she began writing a weekly consumer computer column and started covering Linux and FOSS in 2002 after making the switch to GNU/Linux. Follow her on Twitter: @BrideOfLinux