It's not as lonely being a Linux user as it once was. These days you're liable to find people throughout your neighborhood using Linux.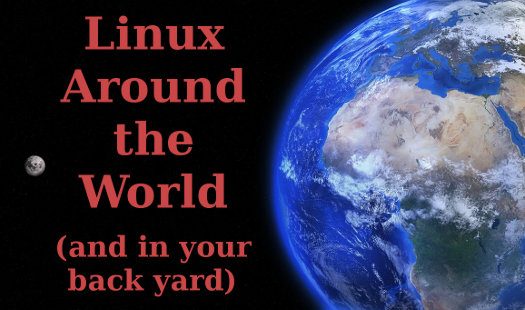 My how times have changed.
It wasn't long ago that Linux users couldn't get any respect. People on the street had absolutely never even heard of Linux, and if you needed the services of technical support, like from your ISP, you might as well forget it. Back in the day, the help desk's favorite thing to say was "we don't support Linux."
What they meant, of course, was that they had no clue on how to do anything in Linux. They were skilled at guiding users through arcane parts of Windows to determine whether the problem was with the company's servers or with the customer's computer. If the truth be known, they didn't really know anything about Windows either, but they had a script.
When they said "we don't support Linux," they didn't let on that they didn't support Linux out of ignorance. They wanted you to think it was because Linux somehow wasn't good enough to work with their equipment. You should call back after getting a real computer, they implied. You know, something with Window installed.
Things have changed, however. A couple of years ago, my ISP, the local telephone coop, called to remind me they'd laid fiber a couple of years earlier and to tell me they were tired of dealing with customers like me who were still insisting on using copper wires. I needed to either sign up for one of their fiber plans or go make a deal with Time Warner. I could take my pick. Either way, they were going to reclaim their copper from the telephone poles on my road and copper wire service was coming to an end.
I had known this day was coming. I'd been dreading it. I was getting super fast speeds from my low cost copper line DSL, because I had the good fortune of being the first subscriber on the line after the local rural switching station. To get the same speed with fiber, I'd have to pay double.
But what could I do? I agreed to make the switch and stay with the local coop. Anything but Time Warner.
That gave me something new to dread. The rural version of "the cable guy" would be coming to my house to "get 'er done" and install the Optical Network Unit. Along with him would come the dollars-to-doughnuts certainty that if a problem arose getting online, he'd blame it on Linux.
The phone guy turned out to be the phone guys — there were two of them. As expected, they were fluent in speaking the dialect known around here as "good ol' boy," and both knew their way around a can of Skoals or a bag of Red Man. Nice guys, however, with manners that were passable if a little rough around the edges.
They pretty much left me alone as they mounted the ONU on an outside wall below the electric meter and ran a line to my office. After installing the modem's battery backup, they had me connect the Ethernet cable and boot my machine.
They stood and stared at the monitor, watching the boot progress. When the splash screen with the Linux Mint logo came up, one of the installers said, "You're using Linux?"
That was a surprise. I'd been expecting something like, "What the hell is that?"
"Yeah," I answered. "Linux Mint."
"I use Ubuntu," he said. "It sure is cheaper than Windows."
Always the evangelist, I replied, "It's also a much better operating system than Windows."
He grunted. I don't think he was interested in all that. As long as it got him to Facebook and Gmail, he was happy.
We were up and running in about fifteen minutes. There was a slight glitch, but it had nothing to do with Linux. A small issue with the Vonage modem. Five years earlier, we wouldn't have gotten that far. The telephone guys would've blamed the problem on unsupported Linux. I'd be assured that if I installed Windows, everything would work fine.
I was reminded again of the growing adoption of Linux about six months back on a trip to the local convenience store, which everyone around here just calls the BP station. Don was on duty, another local good ol' boy who works full time as a landscaper for the county and moonlights weekend nights at the store selling cigarettes and beer. I like him, hes got a lot on the ball, so I take the time to chat with him whenever I catch him on duty, as long as he's not too busy.
It was late summer and to beat the heat I was wearing shorts and a T-shirt with a row of Tux penguins along the bottom that I'd picked up at an open source conference. Don and I made idle chitchat, probably around Powerball, which he likes to call "Energy Orb," or motorcycles, which are one of his passions. At some point, he nodded in the direction of my shirt.
"Is that about Linux?" he asked.
I was knocked for a loop.
It turned out he runs Ubuntu. He's an amateur photographer, and is proficient with GIMP and darktable.
"Let me ask you something," he said. "Do you ever install apps from a terminal? I don't know if it's just me, but that way seems a lot quicker."
My how times have changed. Everyday people are running Linux in the rural South.