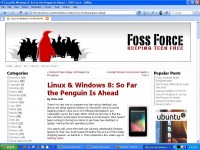 I thought my motherboard was dying.
I have an old Lenovo built, IBM branded desktop with 512 megs of memory and a 3 GHz processor. It runs Windows XP Pro, because the bank requires I run a piece of crap software that only speaks Windows. I've learned to live with it.
It's got a Pentium 4, which had heat dissipation problems, which is why I figure the folks at Lenovo installed a gee-whiz thermostat controlled fan that'll rev-up way high when needed. Normally that hasn't been necessary, except when I get carried away watching high def movies or spend too much time strolling down memory lane on YouTube.

Recently, however, I'd noticed the fan cranking-up unexpectedly, when I wasn't doing anything I considered to be too resource intensive. Programs would also get unresponsive, requiring me to kill them through the Device Manager. Again, I figured the motherboard was on it's way out and that before long and be on my way to see Chris over at Dragonware to see if he could fix me up with a used Windows box so I could continue to make the bank happy.
Then, the other day, after I'd ctrl-alt-deleted to bring up the task manager and close Firefox and Thunderbird the quick and rude way, I decided to investigate. I went to SourceForge and downloaded and installed Process Hacker. The cause of the problem I was having was obvious immediately; it was Firefox and Thunderbird. With all other programs closed and only one tab open in the browser, 87% of my memory was being used. With five tabs open, memory use was off the chart.
I'm a writer. I often have five or more tabs open. It's what I do.
It was just a guess, but I assumed that the last few upgrades to Firefox had given me a browser that is more hungry for system resources than ever. Now that most modern computers measure memory in gigabytes instead of megabytes, the programmers are bound and determined to find a way to use them.
Don't get me started…
I checked Chrome. It was just as bad. So I decided it was time to have a look at the Windows port of the FOSS browser QtWeb to see if it would suit me.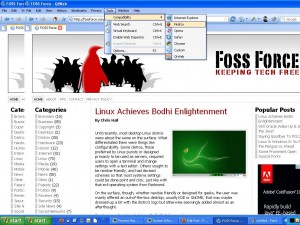 I installed it both on my Windows box and on my laptop running Bodhi. The Windows install was typical, using a Windows Installer. The Linux install was about as easy a Linux install as I've ever seen. In Linux, the browser is one file. Save it to the hard drive and either open it through a terminal or set up a link to launch it from the menu.
It's a nice browser. It's designed to be portable; just throw it on a USB device and run it from there if you like. As the name suggests, it uses the Qt framework and, like Chrome and Safari, takes advantage of the WebKit rendering engine.
It's a very quick browser. Pages load fast and there are no problems, as far as I can see, with how it displays them. It has several cool features that might come in handy. For example, under Tools>Compatibility the user can see how a website would look under other browsers, such as Firefox, Chrome, Internet Explorer and even Safari–a useful feature to have handy when doing work on a website.
The browser treads lightly as far as system resources go. With QtWeb and Thunderbird open, Process Hacker reports memory usage on my 512 MB machine at 48%. Close Thunderbird and memory use drops to 35%. Since XP alone uses 30% of the memory on this machine, this means that QtWeb is using only 5%–or about 25 megs.
There are some problems, however. There doesn't seem to be a way to make QtWeb the default browser. Not a deal breaker for me, since I always keep multiple browsers on all of my machines–so there will always be something onboard to play the default role if needed. There's also no way to run Java, which also doesn't bother me since I haven't had Java enabled in a browser in ages.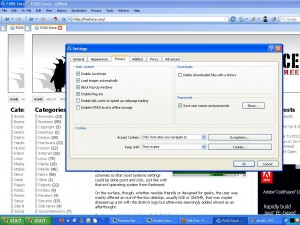 A more serious problem is that it doesn't seem to want to work with some websites I use for business. When I visit our Google AdSense page, for example, the program stalls while attempting to load our latest totals. So far that's the only problem page I've found, but there are sure to be others out there.
The biggest deal breaker for me, as a writer, is there doesn't seem to be a dictionary or way to install one–hence, no spellcheck. Finding this hard to believe, I decided to check-in at the QtWeb's forums, where I discovered another problem. Attempting to go to the project's forums returned a 404, "file not found" error.
I like QtWeb. I like the fact that it doesn't use many resources. Also, I like it's quickness and design. What I don't like is that it doesn't seem to be finished yet.
As soon as they get it finished, I'll use it as my main browser. All it needs is some tweaking of it's handling of web apps, a way to make it the default browser and a dictionary–the last being essential as far as I'm concerned. Oh, and it would be nice if they fixed whatever problem they're having with their user forums.
In the meantime, I'm still going to use it a bit. I'd just like to be able to use it more.
Christine Hall has been a journalist since 1971. In 2001, she began writing a weekly consumer computer column and started covering Linux and FOSS in 2002 after making the switch to GNU/Linux. Follow her on Twitter: @BrideOfLinux