FOSS Week in Review
My highly esteemed colleagues seem to have covered all the big stories this week on these digital pages, which leaves me to wrap it up on a Friday morning with the following:
Get those proposals in: The Call for Papers for the 13th annual Southern California Linux Expo — SCALE 13x, for those of you keeping score at home — ends in less than three weeks from today. Specifically, the CFP ends at midnight Pacific Standard Time on Dec. 10, but it doesn't mean you have to wait until Dec. 9 to submit (even though many of you will…).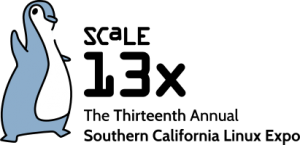 SCALE 13x adds a day to the usual event, running from Thursday through Sunday, Feb. 19-22, 2015, at the Hilton Los Angeles Airport hotel. As the first-of-the-year Linux and FOSS expo in North America, SCALE 13x expects to host more than 100 exhibitors, along with nearly 130 sessions, tutorials, and special events. Held annually in Los Angeles, SCALE is the largest community-run FOSS conference in North America.
Registration is open, and vendor spots — for both commercial vendors and dot-org projects — are still available. For more information, visit the main SCALE 13x page, and we'll see you in Los Angeles in February.
More systemd shenanigans: Not to add fuel to the already raging conflagration known as the systemd debate, it appears that Canoracle will be adding it to Ubuntu earlier than expected, so says Michael Larabel in an article in Phoronix.
Originally slated for Ubuntu 16.04, it looks like it's coming to the vowel-laden distro a year early, with developers getting it ready for release in Ubuntu 15.04 to be released next April.
"Ubuntu developers are still working on migrating to systemd and ensuring compatibility with contained software, but so far things seem to be coming together," Larabel writes, adding that for developers and early adopters, systemd is already available on the current Ubuntu release, 14.10.
Just leaving this here: While FOSS correspondents and intelligent FOSS folks who should know better all risk certain injury jumping on the Microsoft bandwagon, Forbes weighs in on the story here. The headline is simple: "Microsoft's New Democracy: Springtime For Open Source Or A Deeper Play For World Domination?"
The latter. Definitely the latter.
See you next week.