FOSS Week in Review
While linux.conf.au (held in New Zealand this year) is now in the record books and FOSDEM is currently happening in Brussels, the organizational team over at the Southern California Linux Expo (SCALE) has had its proverbial and collective shoulder to the wheel for the last few months as the first Linux/FOSS event of the year in North America — SCALE 13x — is starting to shape up.
The SCALE 13x schedule was posted earlier this week, and for those more observant among you, you'll notice an additional day this year. SCALE 13x begins on a Thursday — February 19 — and runs through Sunday, February 22. SCALE's Thursday schedule will be dedicated to specialty session tracks, similar and in addition to the tracks that have traditionally populated the Friday schedule.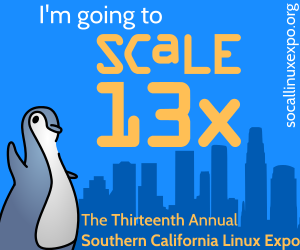 Due to the increasing attendance, SCALE has also extended the exhibit hall hours, which will now open on Friday, February 20, at 2 p.m. Saturday's exhibit hall hours will remain the same, beginning at 10 a.m. and closing at 6 p.m. And on Sunday — traditionally a quieter day in general — SCALE 13x has opted to close the exhibit hall at 2 p.m., though sessions will continue to run on Sunday afternoon.
Ruth Suehle and a speaker to be named later (more than likely in the next 24 hours) will keynote at SCALE 13x. There are about 130 sessions in the four days, and just over 100 exhibitors.
FOSS Force is proud to be a media sponsor of SCALE 13x. As such, coverage of the four days of peace, love and Linux in Los Angeles will be provided by yours truly who, truth-in-advertising, serves as publicity chair for the event. You can watch this space or keep an eye on the #scale13x tag.
Will Dell play nice this time? ZDNet reported this week that Dell brings to the market its top-of-the-line Precision M3800 workstation laptop and the latest model of the Dell XPS 13, running Ubuntu 14.04.
Steven J. Vaughn-Nichols starts out his article with this: "In 2007, Dell became the first major computer OEM to sell pre-installed Linux on their computers. Today, Dell continues to support desktop Linux."
Let's hope that when Steven says that "Dell continues to support desktop Linux," what he actually means is something entirely different than my experience from around 2009.
While doing computer work at Redwood Digital Research in Felton, I had a commercial neighbor — a hair stylist — who wanted to buy her first computer; yes, someone who had never been burdened with Windows lunacy. After letting her use a ThinkPad with Ubuntu, she was ready to order an Ubuntu laptop from Dell because, well, I told her that "Dell continues to support…Linux."
Ordering online, with me watching over her shoulder, the Ubuntu laptop would be available in a week, while the same hardware with Windows was available immediately. A call to Dell Customer Service resulted in four customer service reps, including a manager, who couldn't answer why there was a discrepancy in availability, let alone understanding why I didn't just want the Windows laptop in the first place.
So we hopped in the car, went to Best Buy and bought the Windows version of that particular Dell model, and I installed Ubuntu on it when we returned to the shop. While she has been computing happily ever after since then, the fact remains that in the annals of chalking up sales, that was one sale for Windows, not Linux. And how many folks trying to order an Ubuntu Dell just said, "Screw it, I'm not waiting a week — I'm buying the Windows hardware," when faced with the same problem?
So whenever I'm told the key to Linux's success is tied to big manufacturers offering distros on their hardware, my response is always, "You mean like Dell?"
See you next week.