Free tech is about much more than free software. It's more than just being able to see and modify code and deeper than the rivalry between proprietary and FOSS or Windows versus Linux. It's not just about computers. Free tech is also about freedom and rights, and keeping our lifestyle from being destroyed by the misuse of technology.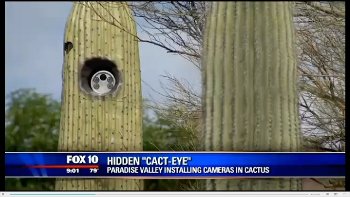 Each day our news sites offer more evidence that this is happening. Collectively, we shrug and think there's nothing to be done. This dragon is too huge to slay.
On Friday, Ars Technica and other sites reported that the town of Paradise Valley, Arizona, a suburb of Phoenix, is hiding license plate readers (LPRs) inside artificial cactuses. Ho-hum. The cameras aren't very well hidden and there's really nothing new here. LPR technology has been around for a while — cops love it because it makes their jobs easier — and other jurisdictions have been hiding them too.
Besides, the town is so inept that there can't be much danger here. The town manager told a local TV station that the cameras weren't active, although the local gendarmes had announced a few days earlier that the cameras had scored their first hit and that a motorist had been subjected to a traffic stop but not arrested. Another ho-hum. This would seem to be another case file from "The Dukes of Hazzard."
The cops and city fathers in Paradise Valley and the hundreds of other towns and cities using the technology would like you to know that LPRs are mainly used for finding stolen cars. If so, they're a bad investment, as they're not finding many stolen cars, probably because most stolen vehicles quickly end up safely hidden in chop shops. There's little mention that the technology comes with serious privacy issues or that it can be used in ways that go far beyond finding stolen vehicles.
"Earlier this year, Ars obtained 4.6 million LPR records collected by the police in Oakland over four years and learned that just 0.16 percent of those reads were 'hits.' We discovered that such data is incredibly revelatory — we were even able to find the city block where a member of the city council lives using nothing but the database, a related data visualization tool, and his license plate number."
It doesn't take a rocket scientist to see how this technology could be used to, for example, round up the leaders of a demonstration that city hall wants to quash.
Government agencies at all levels, from federal to city, are amassing a huge arsenal of technological tools weapons that can be used against citizens. People can be tracked through their cell phones, and in some cases through their automobiles. According to documents released by Snowden, the NSA and other agencies have the ability to spy on citizens in the privacy of their homes using the cameras and microphones built into cellphones and laptops. Whole cities are wired with surveillance cameras connected to both facial recognition software and technology designed to recognize "suspicious" activity.
Again, a rocket scientist isn't necessary to figure out where this all might end.
Even the good news on this front isn't all good. A federal court ruled last week that the NSA's mass collection and storage of calling records of U.S. citizens is illegal, but it didn't order the activity stopped but mainly told congress how to continue the program in a way that would pass judicial muster.
Our fellow citizens seem to be taking these developments in stride, thinking either that the dragon is already too large and vicious or that a dragon is necessary to preserve our freedoms. If it's the later, then Orwell, evidently, has become a new fun theme for Disney to exploit. Sitting just before Tommorowland, it's a land where "war is peace," "freedom is slavery" and "ignorance is strength."
What a great mantra for the 21st century.
You can help FOSS Force grow our coverage by making a contribution during our May Pledge Drive. Get all of the details on our Indiegogo campaign page.
Christine Hall has been a journalist since 1971. In 2001, she began writing a weekly consumer computer column and started covering Linux and FOSS in 2002 after making the switch to GNU/Linux. Follow her on Twitter: @BrideOfLinux