Here and elsewhere, like it or not, I've compared those who travel from FOSS expo to FOSS expo as the spiritual kin to Deadheads following the Grateful Dead across the country while the band toured. Needless to say, I don't mean this in a negative way — it's not like we all show up unwashed for days in tie-dye T-shirts (unless it's from a vendor at a previous show) in VW Microbuses — but it's more of a movable feast where reunions take place every few months with far-flung friends and, as it always happens, great presentations take place and folks of all stripes.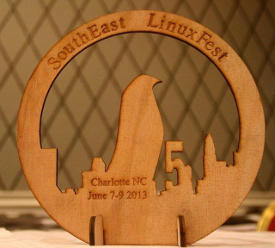 So we can also boil it down into a phrase coined by Robert Earl Keen: "The road goes on forever, and the party never ends."
That said, the next stop on the Magical Linux-y Tour will be in North Carolina — you'll see the link in the upper right of this page — the SouthEast LinuxFest, known more commonly by its acronym SELF (FOSS Force is a Supporting Sponsor), takes place next weekend in Charlotte. For three days, June 12-14 to be precise, Jeremy Sands and the rest of the crew at SELF bring Linux, BSD and FOSS to what has lately become my favorite geographical location, by name: the GNU/South.
Over the past several years, SELF has grown into one of the must-attend shows on the FOSS expo calendar. The keynote on Saturday morning will be given by Francois Dion, who will talk about the lofty topic of "Team Near Space Circus: Computing at 80,000 ft." Saturday evening closes out with a second keynote, Zach Underwood's "Net Neutrality: From One Non-Evil ISP's Perspective." A schedule of speakers covering a wide range of FOSS topics can be found here.
Here's my usual pitch to those Linux/FOSS users of any skill level who, in this case, live near Charlotte: If you are within a day's drive of the Queen City, you owe it to yourself to make it over to SELF. What one learns in sessions and from vendors is always far and beyond worth the trip.
But if you can't make it, this year SELF will have a "Front Porch Mode" page featuring live streaming coverage and interviews by Jupiter Broadcasting and links that update to presentations as they go live on YouTube. The link will go up in the days before the event, so keep posted on the SELF site and their social media or keep an eye on FOSS Force — we'll mention it when we find out.
Also, as a special treat for those who like their FOSS with firearms, there's a Geek with Guns outing planned on Friday night to Brookestone Shooting Sports in Charlotte. More information on this can be found here, about halfway down the page.
If you go, have a great time. If not, find a expo near you and attend.