We've been in this bid'ness for ten years now. The business of giving Linux-powered computers to kids who cannot afford this technology, or any technology for that matter. And so far so good. There have been some lessons learned along the way. Some of those lessons small but valuable. Some of those lessons so painful that we had no choice but to change the way we do things. And never doubt…there were uh, spirited discussions about this change. Yeah, we'll stick to "spirited". I've been to football matches in Great Britain and Germany that couldn't come close to such levels of "spirit." So which thing could bring about this measure of "spirited" discussion?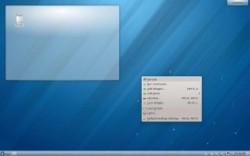 The Linux desktop environment. Environments such as Unity, KDE, Mate, Cinnamon, etc.
These environments all have their strengths and their weaknesses, just like any number of things you might put up for comparison. But this business of desktop environments, well…there are a lot of moving parts here. A lot of things to consider, and most importantly, the mechanics that lead us to our decision to use one environment over the other.
In our case, there is no "one size fits all" environment. I wish there were such a beast. We would not be having this discussion and I would have much more hair on my head than I do now. We are going to look at one allegedly simple task. Changing the desktop graphic.
It isn't as simple as assigning one distro for one set of hardware and another distro for a more robust hardware configuration. There are little things, things you wouldn't think would make a difference but do. Trouble is, I'll be dunked in Windows Sauce if I can tell you what grouping of components make that so.
Our two basic environments are KDE and Cinnamon. Friend and former Reglue Volunteer of the year, Randy Noseworthy, has created enhanced Linux Mint distros for our Reglue Kids. They come with all the educational games and apps you would normally find in Linux Mint, but with a few other things thrown in, such as the game Machinarium and World of Goo. Both distros have sparkling presence on the desktop, but you have to take completely different routes to gain said sparkle. Let's take, for example, the simple matter of changing a desktop background. That should be a simple thing, right? Well, yeah, it is…until it's not. We'll look at two popular environments, both of which we use on our Reglue machines.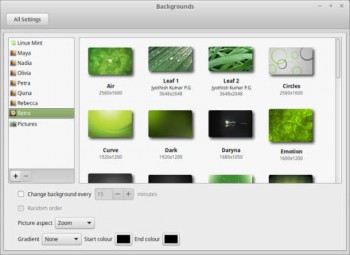 In the latest stable KDE release, you go about this task a number of ways, but the best way is to right click on the desktop and click on "default desktop settings." From there you are offered an extremely slick GUI to choose a desktop picture of your liking. But wait, there are more options available here, let's take a look.
What's this top bar offering? Let's see…it says "layout." Upon dropping down that menu, I'm offered several different options. There is "default desktop" and there is "folder," among others. You click against the "folder" option and all of a sudden you have folder icons and other things all over your desktop. Closing that and putting it back on "default desktop" makes the world right again. You file that away under "good stuff to know," but that doesn't give you any means to change your desktop.
Then you discover that by clicking on "Wallpaper" you are presented with a whole lot of options. Things you never knew your desktop was capable of doing. You can put a time-keeping world globe on the desktop; you can put various animations and slideshows on the desktop…heck, you can do a lot of stuff on your desktop. But all you want to do is put a single, different picture on there and leave it. Period. So you finally decide that the option "image" is the best place to leave the drop down — the place it was before you started all of the exploring. That's twenty minutes of your life you will never get back. Consider yourself lucky. There are much worse rabbit holes by which to be swallowed.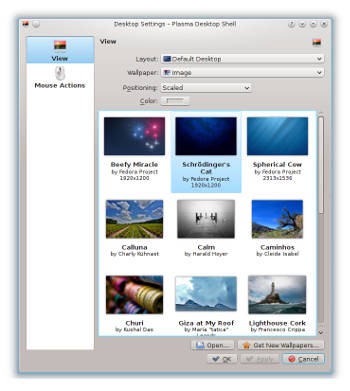 So you look at the number of images you are offered by your default settings. They suck, or so says you. So you look for a way to add an image to the present image library. Surprisingly, the process of adding pictures to your desktop wallpapers is fairly simple, although you are left to figure it out for yourself. The little plus and minus symbols on the bottom of the GUI are often overlooked as a means of gooification. Just create a folder for them and then open your dialog and choose "add folder." By the way, this is a relatively easy way to do this job. Previous KDE environments (otherwise called the good ol' days) made you figure out where the current pictures were, then copy the pictures you want into that folder. But even with fairly experienced computer users, this system isn't at all intuitive.
Easy enough, as long as you are not like me and are determined to create your own rabbit hole by figuring out what all those other options are and what they do. In that case, settle in with your hot pockets and your choice of rocket fuel. We'll see you in a week or so. Fact is, we will go deeper into that rabbit hole in the next couple of weeks. We'll talk about that in a minute.
For many of us, all of this unexplored territory is hours of fun and entertainment. But to other users, real users, everyday users, it can truly be a "rabbit hole" in which to disappear. My suggestion? Put a lot of those options under "advanced settings" and leave the most basic settings as they are. Most of the kids we give computers to will only want that option anyway. Placing them under "advanced" will keep more stuff from being broken. Most times anyway. The people who click the "advanced" tab are the ones we're going to be teaching five years from now. Teaching them the real stuff…the stuff that will lead them into technology careers. Boots-on-the-Martian-ground. Those kids. They open the "advanced" tab.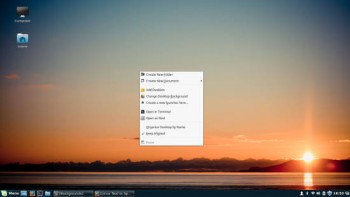 So now, let's look at Cinnamon. At first, I did not like Cinnamon at all. I preferred Mate because of its ability to create an environment almost exactly like Gnome 2. But the more I played with Cinnamon, the more I liked it, and that says a lot, for me at least. I like bling. I like to change stuff around to see what it looks like and how I can make it look better. I will admit I am a shallow, shallow man when it comes to desktop bling. One friend said that he considered my desktop to look like a New Orleans house of ill repute.
I like the burgundy and gold stuff. The heavy, velvet, smooth to the skin and eyes stuff. The deep, rich colors. I like reflections and the little tweaks that make the desktop shimmer and shine. In Cinnamon, I had a lot of trouble making most any of that happen. To my level anyway. When I discovered that I could not change the look of the icons on my panel, I filed for an annulment immediately. It was two years again before I looked the girl up and took her out for the night.
Changing the desktop turned out to be a simple task. Right clicking the desktop opens a simple dialog box in which you can easily choose the picture you like, from the folder you like. In fact, Clem-n-company have made the different wallpapers from different releases all available from the menu, each within that respectively-named release. The graphic included shows those menus to the left.
Now, what is the big deal? For most of you, this is, uh…big deal-less? Un-bigdealed? Deal without bigness? Un-bigdeal-o'-fied — I dunno. But the answer is, for most of us, not much. Now, most of the Reglue volunteers are not "Linux people." Fact is, many of them are not particularly talented in anything tech at all. They just want to help a project that makes a difference.
The problem is, when I change the environment from something they know to something they don't…then my text and email blow-the-frick up. When they are tutoring the new Reglue kid on the basics, well hell; they can't teach what they don't know. So here we go on a two hour class for volunteers on a Saturday, teaching the basics one more time. In that two hour period, most volunteers do make the trip to Reglue to get the needed training.
"So Ken," you may ponder, "are you suggesting that environments should follow a sort of guideline when building such desktop tools? Some sort of unification?"
Well, now that you mention it, yes. That is what I am suggesting.
And by doing it so, I will be told to blow it out from any part of my southern regions and just deal with it. Deal with it I shall. People use the tools they are most comfortable using. In other words, I'm suggesting that the big players get together at times and discuss the ways they can work together to help the non-tech folks have easy-to-use tools to do this or that. Defining what "this or that" is will be another five year holy war, and God forbid that changes are made for the improvement of new user experience.
Let the sky fall.
But it's something we might talk about in our respective forums. Let's see what momentum can be gained, or at least what opinions are. Let's talk about how the simple matter of changing a desktop background can be unified across different distros. I understand that no one is going to adopt these changes, but I'm betting a lot of people would be interested in how it can be done and simplified.
Ken Starks is the founder of the Helios Project and Reglue, which for 20 years provided refurbished older computers running Linux to disadvantaged school kids, as well as providing digital help for senior citizens, in the Austin, Texas area. He was a columnist for FOSS Force from 2013-2016, and remains part of our family. Follow him on Twitter: @Reglue