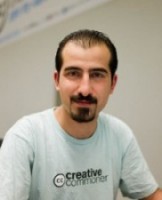 As of today, Bassel (Safadi) Khartabil has been detained by the Syrian government for 943 days.
For those of you who may not be aware of his plight, Bassel, a 31-year-old Palestinian-Syrian, is a respected computer engineer specializing in open source software development. He has become known worldwide for his strong commitment to the open source paradigm, teaching others about technology, and contributing his experience freely to help the world.
Along the way, Bassel became the project leader for an open source web software called Aiki Framework. He is well known in online technical communities as a dedicated volunteer to major Internet projects like Creative Commons, Mozilla Firefox, Wikipedia, Open Clip Art Library, Fabricatorz, and Sharism.
He launched his career ten years ago in Syria, working as a technical director for a number of local companies on cultural projects like restoring Palmyra and Forward Syria Magazine.
Bassel's work caught the attention of Foreign Policy magazine, which named him No. 19 in their Top 100 global thinkers list for 2012, choosing him for "fostering an open-source community in Syria long on the margins of the Internet's youth culture."
Apparently, working for a free and open Internet also caught the attention of the Syrian government, which sadly wasn't as enamored with Bassel's work as was Foreign Policy magazine. On March 15, 2012, Bassel was detained in a wave of arrests in the Mazzeh district of Damascus, Syria.
Since his arrest, Bassel has been unjustly detained without trial or any legal charges being brought against him.
For 943 days.
Bassel has contributed much to the FOSS paradigm.
He's one of us.
He deserves to be free.
For more information on efforts to gain the release of Bassel (Safadi) Khartabil, you can start with the Free Bassel campaign here.