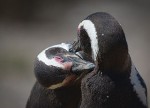 Penguinistas now have another reason not to adopt Ubuntu as their operating system of choice. Canonical and Oracle have each announced, in separate blog posts, that the two companies are working together to insure the compatibility of each company's Linux offering on the other's OpenStack cloud implementation.
Such a collaboration isn't surprising. To be successful in the cloud, Canonical will need to support any Linux distro that potential enterprise customers throw at them, just as […]
Continue reading Is Oracle Using Canonical to Counter Red Hat?