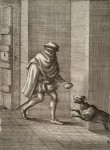 From its inception, we knew the Internet to be an unsafe place. Before the first server was cracked by an online hacker, we knew that was bound to happen sooner or later. We knew because people were already breaking into computers, even without the Internet offering 24/7 cracker/hacker convenience.
Back in the early 90s, when I was living in the college town of Chapel Hill, I shelled-out five bucks or so at the local Egghead [...]
Continue reading Should Everything in the World Be Facing the Internet?